Greek bakers wanted to send their wishes for a Happy and sweet 2018 to the residents of Athens by making a 2,500 pound Vasilopita and distributing some 15,000 slices of the holiday cake.
The 230-foot-long and 10-foot-wide New Year's cake was on display in the central square in Athens' suburban municipality of Peristeri. The Association of Athens Bakers claimed it was the largest ever made in Greece, and probably the world.
Forty bakers worked for three days mixing ingredients and baking.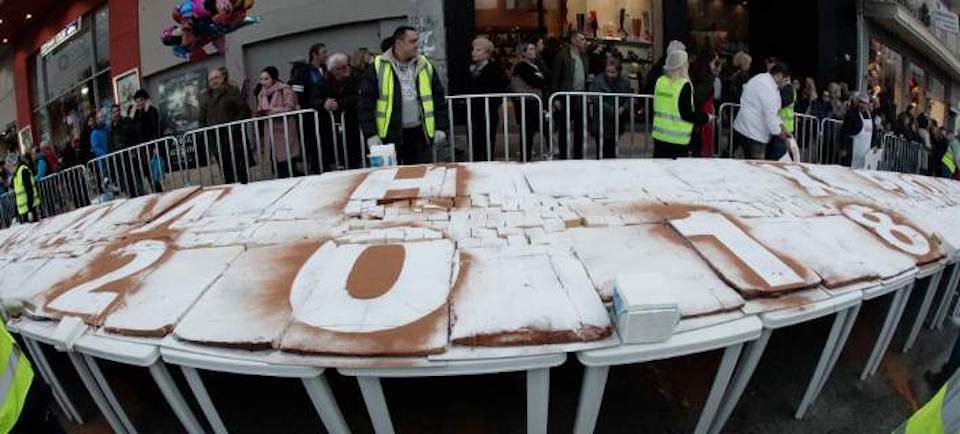 200 "lucky coins" were hid inside the cake. Those who found the coins will have blessings throughout the year, according to Greek tradition.
"We are cutting the Vassilopita of the love and solidarity," Andreas Pachatouridis, the mayor of Peristeri said at the cutting ceremony.
"This is the message we want to convey, that there should be solidarity among us these difficult days," referring to the debt crisis which has hit hard Greece since 2009.
"All people living in Greece these days need a taste of optimism, joy and happiness."
*****
Since you're here… I have a small favor to ask.
More and more people than ever before are reading The Pappas Post and despite increasing costs to maintain the site and provide you with the quality content that you deserve, I will never "force" you to pay for our website or add a paywall. I believe in the democracy of the internet and want to keep this site and its enriching content free for everyone. But at the same time I'm asking those who frequent the site to chip in and help keep it both high quality— and free. We've implemented a "free-will" annual subscription for those who want to support our efforts. I guess it's fair to call it a philotimo subscription… because you don't have to do it but it's really the right thing to do if you love the site and the content we publish. So if you like The Pappas Post and want to help, please consider becoming a "philotimo subscriber".Click here to subscribe. If you'd rather make a one time donation, we will gladly accept any amount, with appreciation. Click here to donate any amount.