On July 26, 1922, the largest and oldest U.S.-based Greek heritage organization came to fruition.
In the face of bigotry and racism in early 20th century American, a group of visionary Greek immigrants established the American Hellenic Educational Progressive Association (Order of AHEPA) with the mission of promoting unity and assimilation into their new home country's society.
Since then, what began as a grassroots immigrant movement in Atlanta, Georgia has flourished into an organization with international membership featuring chapters in the U.S., Canada, Greece, and Cyprus, as well as "sister" chapters in Australia and New Zealand under the auspices of AHEPA Australasia.
AHEPA is highly active in today's communities and promotes ancient Greek ideals including philanthropy, education, civic responsibility, family and individual excellence.
Funded by more than $2 million of member contributions every year, the association provides scholarships, educational chairs, housing for the elderly, medical research, community programs, charitable projects and other similar initiatives.
It was the widespread and often violent discrimination faced by early Greek immigrants that ultimately led to the association's founding in 1922.
At the time, the infamous Ku Klux Klan had recently reorganized. With an estimated three million men it rampaged against vulnerable immigrant and minority groups throughout the U.S., where it dominated local politics in northern and southern states.
The Klan imposed personal and economic intimidation upon foreign-born Greeks — even those who became American citizens — giving them no choice but to organize for the sake of their own livelihood.
At its peak, the KKK exerted influences on Republicans and Democrats alike, electing 16 senators, 11 governors and an undetermined big number of congressmen.
Klan-affiliated groups controlled local politics in major cities such as Dallas, Texas; Denver, Colorado; Indianapolis, Indiana and Portland, Oregon.
Klansmen also asserted their authority in smaller communities — Anaheim, California; El Paso, Texas; Youngstown, Ohio and Portland, Maine, among others.
Their members showed their defiance at U.S. elections, passing out cards that harshly declared:
When cotton grows on the fig tree
And alfalfa hangs on the rose
When the aliens run the United States
And the Jews grow a straight nose
When the Pope is praised by every one
In the land of Uncle Sam
And a Greek is elected President
THEN–the Ku Klux won't be worth a damn.
Given such hostile adversaries, the embattled Greek immigrants who would found AHEPA chose to act — not coincidentally — by founding the organization in Atlanta, home to the KKK's national headquarters.
The founding members were Harry and John Angelopoulos, George Campbell, James Campbell, Nicholas Chotas, George Polos, Spiros Stamos and James Vlass.
In addition to Italians, Slavic Europeans, Asians and other minority groups considered intolerable by the Klan, the Greeks were targeted for not adhering to the Klan's strict beliefs about what defined a "good and loyal" American.
The Klan instigated boycotts of Greek-owned shops by openly threatening or attacking customers entering and leaving; as a result, businesses with earnings between $500-$1,000 per day dropped as low as $25, leaving them two options — either close down, or sell to a non-Greek.
Many were also threatened with dire consequences for speaking Greek in public — even on their own business property.
The Klan also persecuted immigrants for intermingling with "people of color," such as in Goldsboro, North Carolina where two Greek restaurant owners were chased out of town for serving black customers.
In a similar incident that took place in Pensacola, Florida, a group of Klansmen donning long robes and hoods entered a Greek-run restaurant at night and gave the owner a note that read:
"You are an undesirable citizen. You violate the Federal Prohibition Laws and laws of decency and are a running sore on society. Several trains are leaving Pensacola daily. Take your choice but do not take too much time. Sincerely in earnest, KKK."
The restaurateur left town, and a police captain who had been in his store at the time did nothing to arrest the Klan members for wearing masks in public, excusing them by saying he thought they were part of a "Greek-letter fraternity."
In Indiana — the state in which the KKK had its strongest political influence — Klansmen burned crosses in the yards of outspoken Greek community members, and unprovoked beatings of Greeks were not reported to police unless another followed shortly after.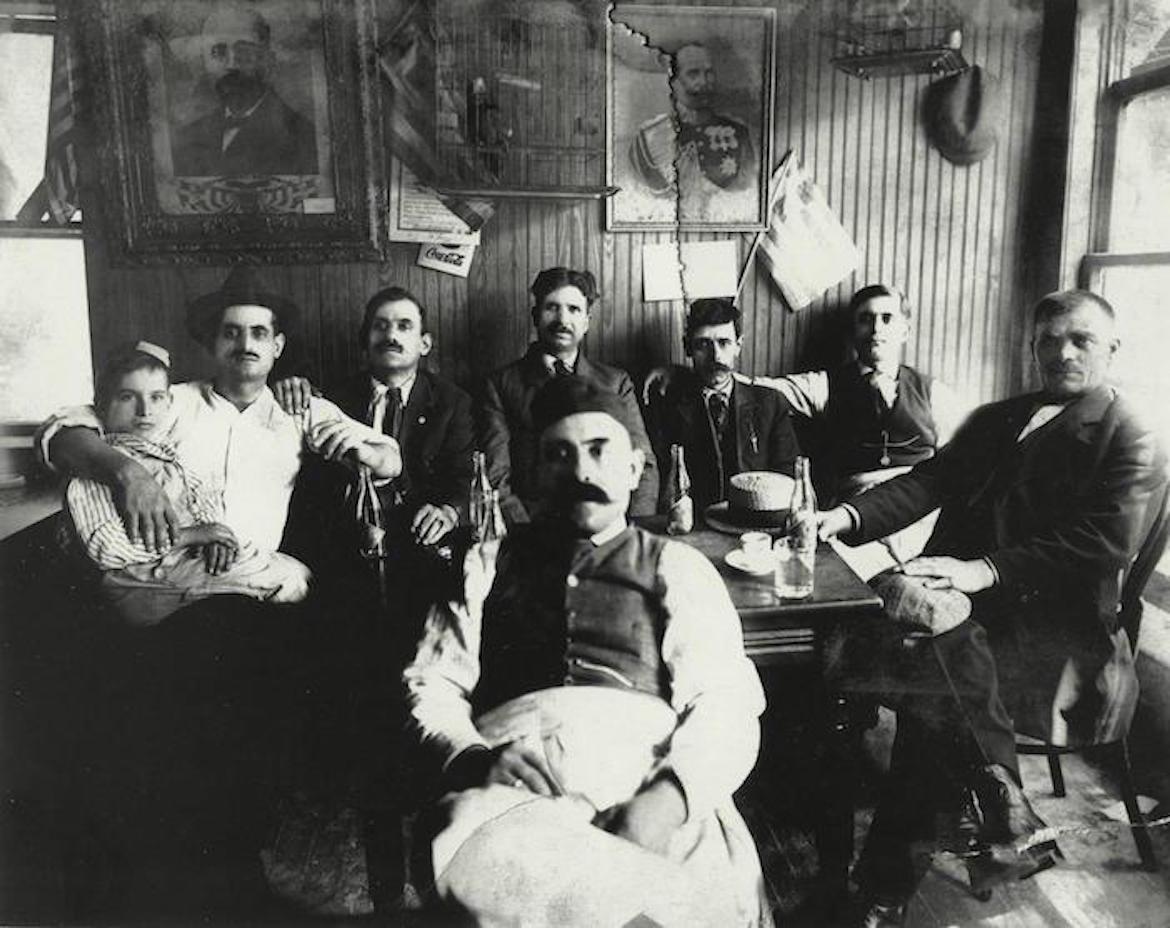 In order to improve relations with non-Greeks, the AHEPA leaders emphasized assimilation, cooperation, persuasion and — unlike their KKK counterparts — non-violence.
It was the hyper-Americanism and racially-fueled hatred from the KKK that motivated Greek leaders even more to assert their own love of country by founding AHEPA on principals of unquestionable loyalty to the U.S.
They emphasized patriotic ideals such as American citizenship, English language proficiency, active participation mainstream society, economic stability, social unity and education.
Just two decades after its founding, AHEPA would demonstrate its American patriotism during World War II, when the association sold more than $500 million of U.S. War Bonds — more than any organization in the country.
More recently, the organization raised $400,000 for the restoration of Ellis Island and the Statue of Liberty and $775,000 for a sculpture commemorating the Centennial Olympic Games in Atlanta.
AHEPA officials have also had historically strong relations on the congressional and presidential levels.
They first met with President Calvin Coolidge in 1924 at the White House and have conferred with all 12 presidents since Franklin Roosevelt, Harry Truman and Gerald Ford became members of the association.
President George Bush even once hailed AHEPA as one of "the thousand points of light."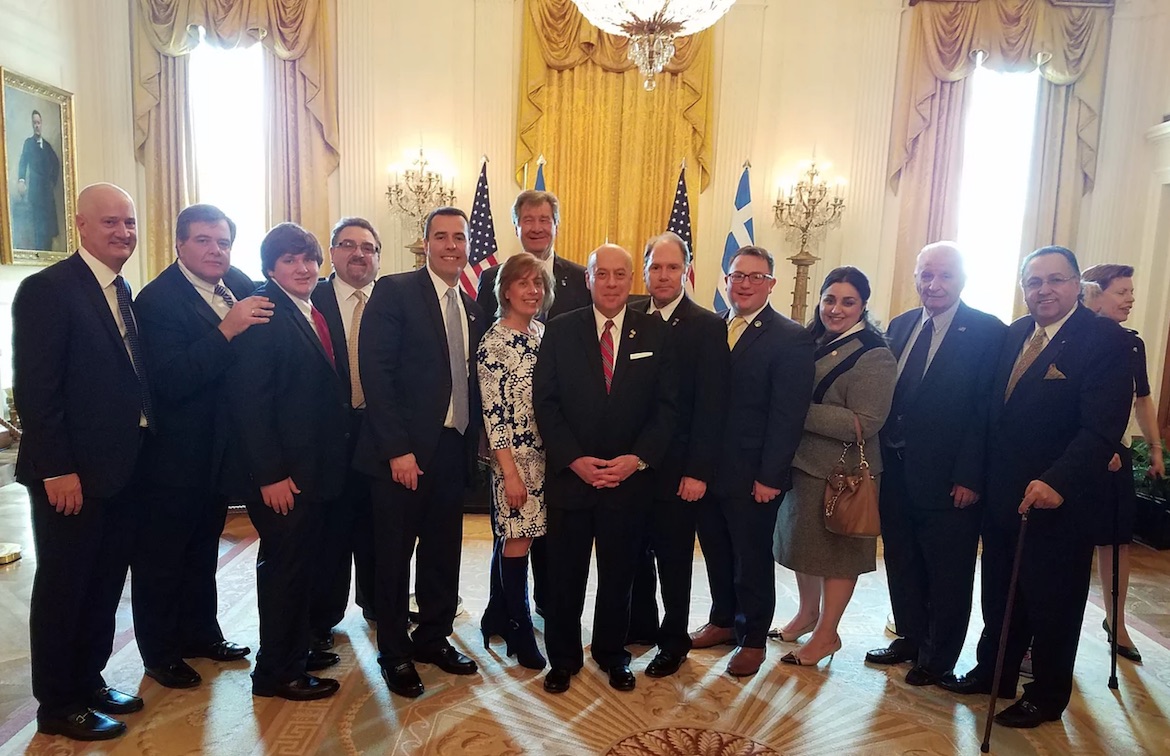 AHEPA has been based in Washington D.C. since relocating in 1924, after which the organization also added three auxiliaries to support Greek American men and women — Daughters of Penelope, Sons of Pericles and Maids of Athena.
The association's full jurisdiction includes the U.S., seven Canadian provinces, the Bahamas, Greece, Cyprus, Europe and Australia, and it has initiated more than 300,000 members in its history.
The association is divided into 800 chapters and has an active membership of more than 30,000 worldwide.
---
Is The Pappas Post worth $5 a month for all of the content you read? On any given month, we publish dozens of articles that educate, inform, entertain, inspire and enrich thousands who read The Pappas Post. I'm asking those who frequent the site to chip in and help keep the quality of our content high — and free. Click here and start your monthly or annual support today. If you choose to pay (a) $5/month or more or (b) $50/year or more then you will be able to browse our site completely ad-free!

Click here if you would like to subscribe to The Pappas Post Weekly News Update