The popular comic book series "Hellboy" dives into the world of Greek mythology, pitting its titular hero up against a new variety of Gods in a new release.
In "Hellboy and the B.P.R.D.: Night of the Cyclops," the new comic book one-shot, the paranormal investigating hero takes on deities from ancient Greek myths.
The new book shines light on the adventures of Hellboy who, while encountering goddesses like Hecate, hadn't truly faced the Greek pantheon yet.
A description from the book says that "Hellboy is detoured into another adventure by…a goat" and that he finds himself "in a strange hidden land of treachery and togas as he takes on the wrath of a jealous god."
California native Mike Mignola created Hellboy to be the star of his own self-titled series.
Summoned to Earth by Nazi occultists as an infant, Hellboy was taken in by Allied Forces, a moment that lead to the creation of the Bureau for Paranormal Research and Defense. 
Throughout the series, the protagonist has saved the world from demons, witches, vampires and other adversaries.
For his latest Greek mythology-inspired installment, Mignola partnered with French cartoonist Olivier Vatine who provided illustration and co-writing.
The full book cover shows Hellboy dressed in classic Greek fashion, armed with a spear and a B.P.R.D. themed shield.
"Hellboy and the B.P.R.D.: Night of the Cyclops" is available for purchase via Amazon.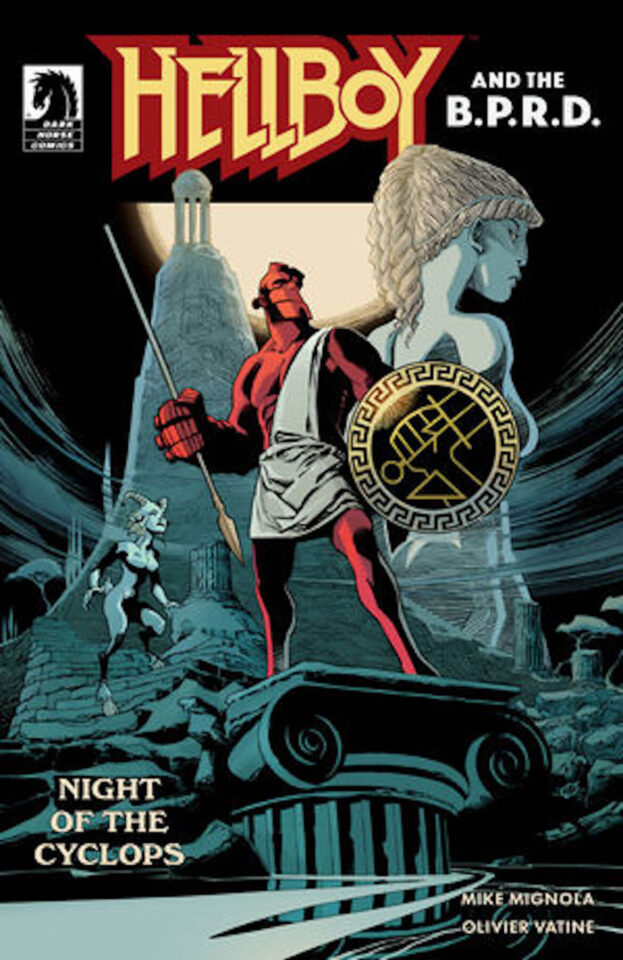 ---
Is The Pappas Post worth $5 a month for all of the content you read? On any given month, we publish dozens of articles that educate, inform, entertain, inspire and enrich thousands who read The Pappas Post. I'm asking those who frequent the site to chip in and help keep the quality of our content high — and free. Click here and start your monthly or annual support today. If you choose to pay (a) $5/month or more or (b) $50/year or more then you will be able to browse our site completely ad-free!

Click here if you would like to subscribe to The Pappas Post Weekly News Update