On The Pappas Post, we often refer Greece's Golden Dawn Party by the descriptor "Neo-Nazi" just as we refer to the Syriza Party as "Leftist or Left Wing" or the New Democracy Party as "Conservative" or "Right Wing."
It's our way (as well as many others in the media) of describing the political dynamics of the party to an audience that might not know the day to day politics of Greece.
The same holds true for much of the foreign media outside the United States who refer to the Democrats as "liberal" and the Republicans as "conservative" or practically any other party in a foreign country.
Almost every single time we post an article or story calling Golden Day "Neo Nazi," people (usually from within the party's ranks and file supporters), will protest the description and deny that Golden Dawn is Neo Nazi.
Here's why we do it, and will continue to.
1) Anti-semitism is one of the fundamental cores of the party, its guiding principals, the rhetoric of its members, its political graffiti and other forms of engagement.
2) Members use "Roman salute," that was used by the Italian Fascist and German Nazi movements.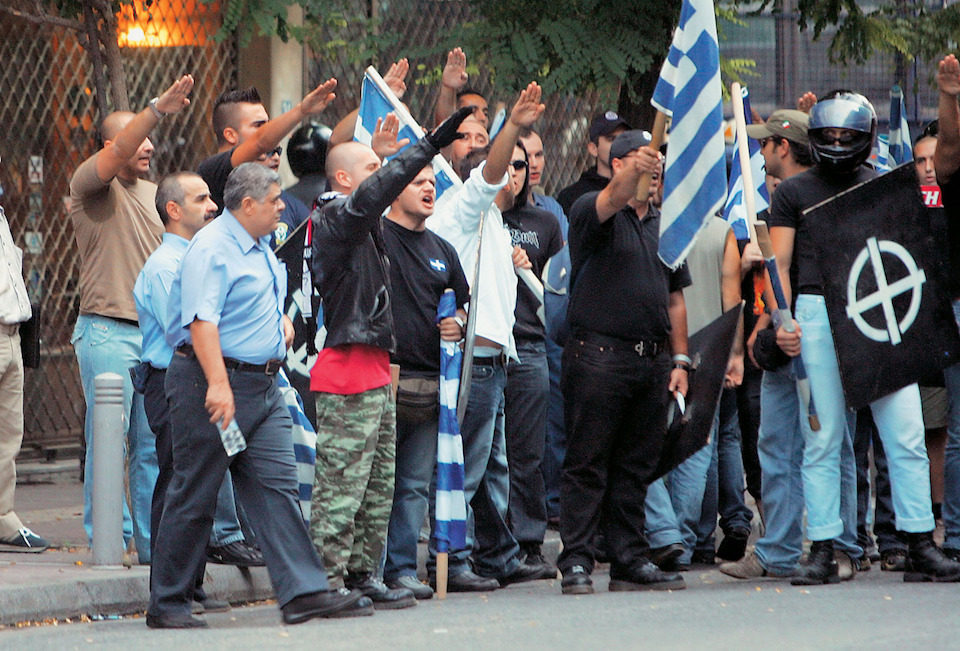 3) Golden Dawn's meander symbol uses the same colors as Hitler's NSDAP flag: a red background, a black meander (respectively swastika) and a white border.
4) Ilias Kasidiaris, a spokesman for Golden Dawn, has written numerous articles, including one that was published in Golden Dawn magazine in April 2011, in which he asked rhetorically, "What would the future of Europe and the whole modern world be like if World War II hadn't stopped the renewing route of National Socialism? Certainly, fundamental values which mainly derive from ancient Greek culture, would be dominant in every state and would define the fate of peoples. Romanticism as a spiritual movement and classicism would prevail against the decadent subculture that corroded the white man. Extreme materialism would have been discarded, giving its place to spiritual exaltation". In the same article, Adolf Hitler is characterized as a "great social reformer" and "military genius". Kasidiaris also bears a swastika tattoo on his left arm.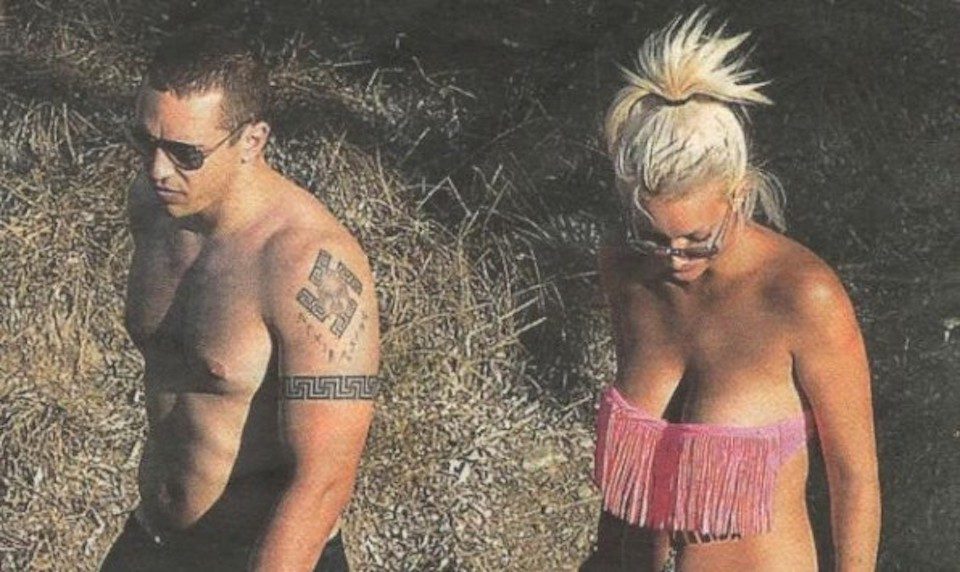 5) In an article published in 1987 in the Golden Dawn magazine titled "Hitler for 1,000 years", its editor Michaloliakos showed his support for Nazism and white supremacy.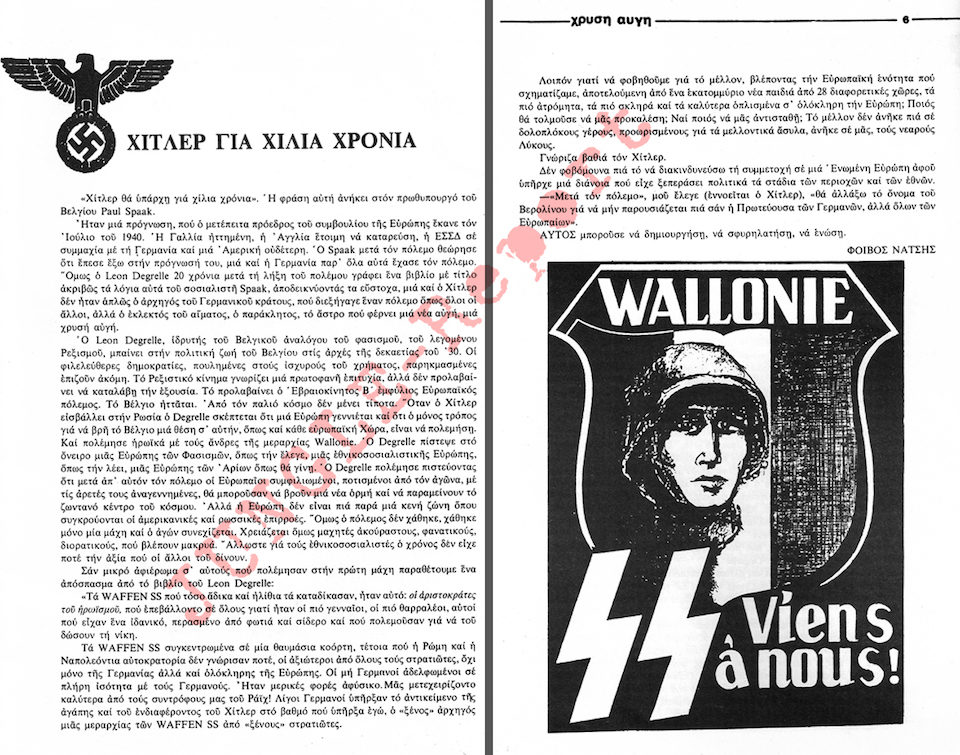 6) In the same article he wrote, "We are the faithful soldiers of the National Socialist idea and nothing else" and "WE EXIST, and continue the battle, the battle for the final victory of our race". He ends the article by writing "1987, 42 years later, with our thought and soul given to the last great battle, with our thought and soul given to the black and red banners, with our thought and soul given to the memory of our great Leader, we raise our right hand up, we salute the Sun and with the courage, that is compelled by our military honor and our National Socialist duty we shout full of passion, faith to the future and our visions: HEIL HITLER!". Furthermore, he uses capital letters for pronouns referring to Hitler ("by Himself", "His people") the same way Christians capitalize pronouns for God or Jesus Christ.
7) On August 17, 1987 Rudolf Hess, Adolf Hitler's deputy in the Nazi Party, committed suicide in Spandau Prison. The following day on 18 August 1987 Golden Dawn members distributed proclamations in the center of Athens with the phrase Rudolf Hess Immortal (Greek: RUDOLF HESS ΑΘΑΝΑΤΟΣ). The official magazine of the party also carried a cover story memorial to Hess after his death, praising him.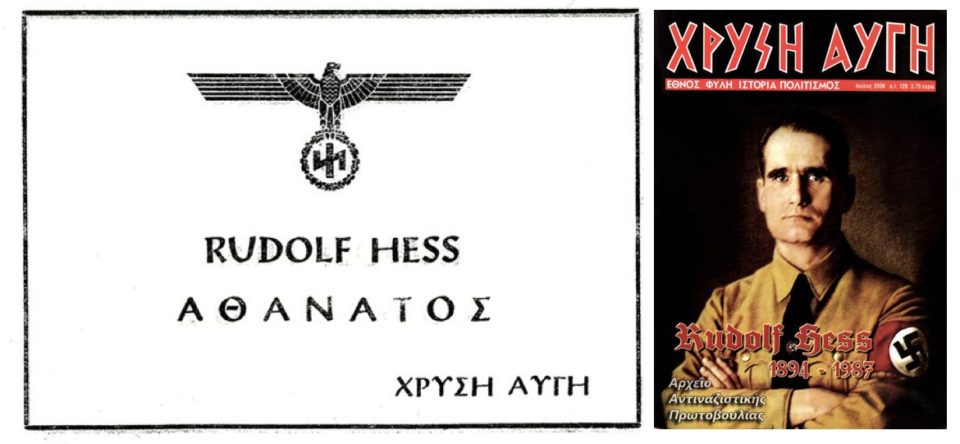 8) In pictures taken during the first congress of Golden Dawn in February 1990, the congress hall is decorated with the exact Nazi Swastika image, as well as the party's own Nazi imagery.
9) There are many cases in which Golden Dawn members have appeared to give a Nazi salute. The founder of the party, Nikolaos Michaloliakos, appeared to give a Nazi salute in the Athens city council.
10) In May 2012, Golden Dawn ran in Greek elections under the slogan "So we can rid this land of filth," similar references were used by the SS and publicity agents of Hitler. On his post-election statement, the leader, Nikolaos Michaloliakos, had placed a marble eagle on an obvious position on his desk, which according to media reports bears similarity to the eagle of the Nazi Third Reich. After the elections, Eleni Zaroulia, a Golden Dawn MP, wore an iron cross ring during her inauguration, a symbol which has been associated with Nazism. As depicted in a picture taken on 14 September 2012, Panagiotis Iliopoulos, another Golden Dawn MP, has a tattoo reading the Nazi greeting Sieg Heil.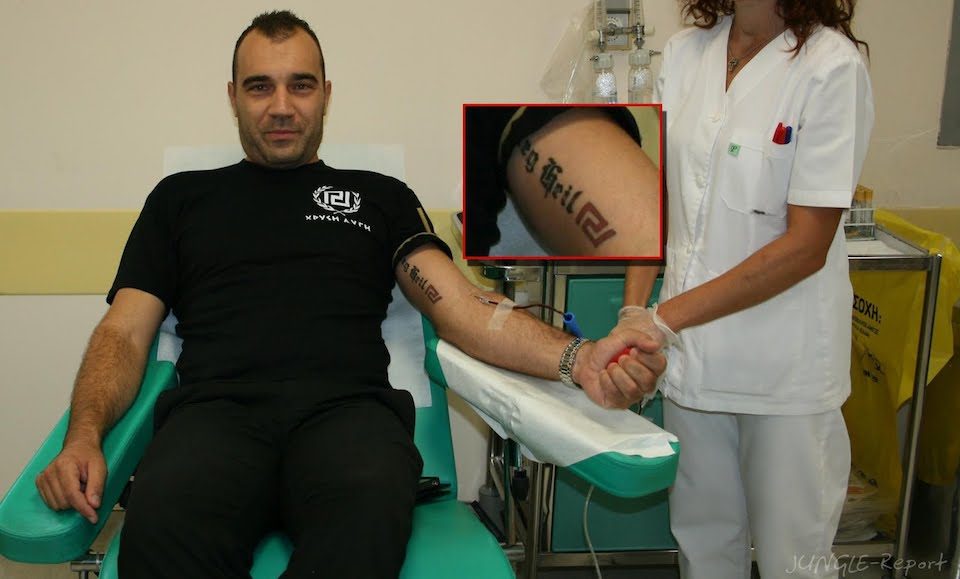 11) Artemis Matthaiopoulos, a member of Golden Dawn, who was elected as MP for the town of Serres was the frontman of the Nazi punk band "Pogrom" with songs called "Auschwitz" with lyrics such as "fuck Anne Frank" and "Juden raus" ("Jews out").
12) Golden Dawn's leader, Nikolaos Michaloliakos, has denied the existence of gas chambers and ovens at Nazi extermination camps. On 6 June 2013, Ilias Kasidiaris implied during a stormy debate in the Greek Parliament that he is a Holocaust denier, as well.
13) In April 2014, Golden Dawn MP Ilias Panagiotaros described Hitler as a "great personality, like Stalin" and referred to the Nazi ideal of one nation = one race in numerous public forums.