Summer is over— the endless photos of Greek beaches and mountain vistas are no longer streaming on our Facebook news feeds, not to mention the beautiful scenes from second, third generation Greek Americans returning to their ancestral family towns and villages to tie the knot, paying tribute not only to their ancestors who came before them, but to the country itself. It's a tribute to Greece and the Greek heritage these young people carry with them— often far-removed from their second, third— even fourth generation roots, that they would rerun to what really is a "foreign" country to them for the most important day of their lives.
Yianni & Stephanie
More than 500 family and friends of Yianni and Stephanie (Novotny) Bourbakis traveled to idyllic Hania, in western Crete for their wedding. Many came from Detroit, where Stephanie is from. The couple met more than a decade ago at a Cretan dance in Detroit. Yianni grew up in Pittsburgh and both were active in the youth programs of the Pancretan Association. It was appropriate therefore for them to return to where it all began, paying tribute to Stephanie's maternal grandparents and Yianni's parents, Kosta and Ioanna Bourbakis, all of whom came from Hania. A special side note— Stephanie and Yianni were married at Trimartiri, the Cathedral in Hania where, thirty years earlier Yianni's parents were married. Na Zisete!
Christos & Soula
Christos Fokas and Soula Keres were married in Nestani, outside Tripoli, in the Peloponese, at Holy Annunciation Greek Orthodox Church. Soula, a Chicago native, decided to get married there because she had many fond memories with her family in Greece over the summers.  Her parents were married at the same church as well. It was a scene from the 1960s— Soula and Christos rode through the village on a horse carriage that her great-grandfather once owned. Family and friends accompanied the carriage, singing traditional folk songs to the couple and people stood on their balconies threw rice at the couple as they strolled by on there way to the church. It was a mix of traditions and cultures as Christos' family, many of whom came from a village called Neo Hori near Messonlogi in central Greece added their own twist. The night before the wedding, the groom's oldest brother visited Soula at her house and placed money in her shoes to make sure they would fit well. Soula told us the day will remain with her forever— especially seeing her 87-year-old grandmother dancing all night long at the reception, celebrating in joy having her entire family near her.
Harry & Lance
Harry Mavromichalis met Lance Boyd, the love of his life, eight years ago in New York City where Harry was working as a filmmaker. Admittedly, Harry was never big on marriage but over time, he realized the importance of gay men being able to fully participate in the celebration of love and life just like every other American. It was a time when the national conversation had begun focusing on marriage equality and the couple decided that they owed it to their family and friends to offer them all an opportunity to witness, in a public demonstration, the feeling that they too, were "normal" and deserved to showcase their commitment to each other. The wedding happened on the western shores of Skopelos while the sun was setting and the calm waters brushed on the nearby beach. The couple hosted a private screening of Mamma Mia for their guests, many of whom had traveled from Cyprus (where Harry is from) during the three-day celebration. They were the first gay couple married on Skopelos and according to Harry, were welcomed with open arms by the locals.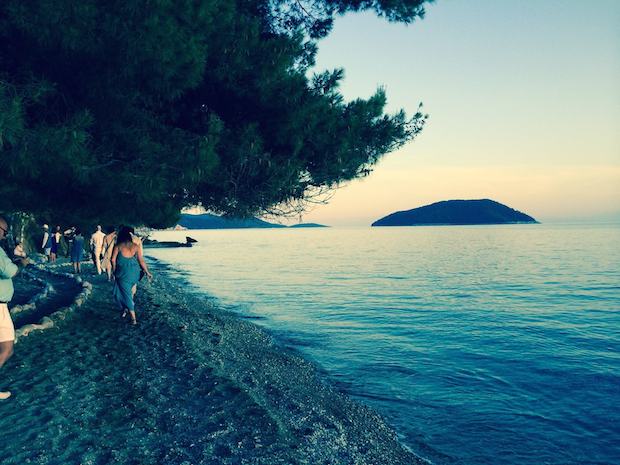 Dimitri & Vicki
Chicago natives Dimitrios Dallas and Vicki Petridis chose Aigio— the village where Vicki's grandmother came from, near Patra in western Peloponessos as the location of her special day. It was a traditional wedding with plenty of folk music, song and dance. This meant a lot to Dimitri, who is active in the Greek traditional music and dance circles in the United States. The musicians, including acclaimed singer Nasia Konitopoulou ("I died," said Vicki) gathered at her family's home and escorted her to the church where Dimitri was waiting with his family and friends. A dance-filled reception took place after the wedding where, during a special moment, the groom played a song on the clarinet and sang to his new bride. Vicki told us that she owed everything to her wedding planner, Antia Giorgiou, who planned everything with Vicki remotely between Chicago and Aigio. The bride is also grateful to photographer George Kossieris for capturing the event in beautiful images. In the end, the couple drove away in a 1960s-style version of the love bug, named after the mythical Greek cult hero Tonis Sfinos.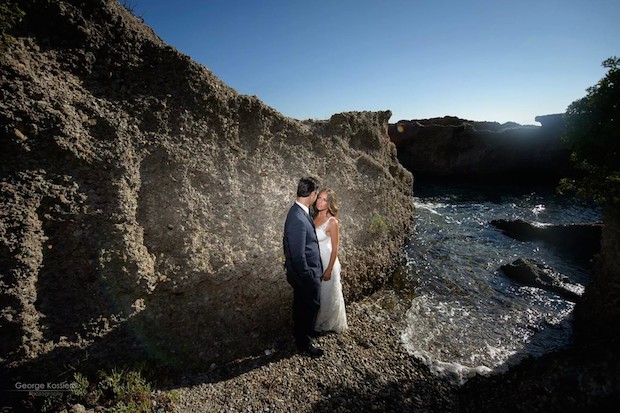 Mike & Laura
Washington DC couple Mike Manatos and Laura Evans didn't tie the knot this summer in Greece– they tightened it, choosing a tiny church on the hills above Pylos, near Kalamata, to renew their vows, ten years after their wedding. Mike, a well known lobbyist and active in all aspects of the Greek American community, and Senior Vice President of Manatos & Manatos, has roots in Crete. His family is a Washington DC institution. Laura is a well-known news anchor for the local Fox News affiliate Fox 5 WGTV. Mike showered his wife with the best– for her first-ever visit to her husband's ancestral homeland. The couple renewed their vows at the tiny church of Prophet Elias, where Fr. Christophoros delivered a blessing of their wedding and the couple added an American twist, reading vows to each other before the witness of the priest, in God's house. The culmination was a champagne toast and a bottle of Cretan tsikoudia, christened by Fr. Christophoros. Mike and Laura were lucky to take this special trip on their 10th wedding anniversary knowing that the products of their wedding– their three beautiful children aged 9, 7 and 4, were in good papou and yiayia hands back home in Washington DC.