The Greek Slave is a sculpture by American sculptor Hiram Powers that became the most famous American sculpture of the 19th century. The highly provocative stance of the female figure, which Powers described as a Greek woman stripped and chained at a slave market, was seen as so salacious that at the time of its numerous exhibitions, men and women viewed it separately.
Though it addressed the 1821-1832 Greek War of Independence from the Ottoman Empire, abolitionists in America seized on its social commentary and symbolism on the highly volatile subject of slavery in the United States.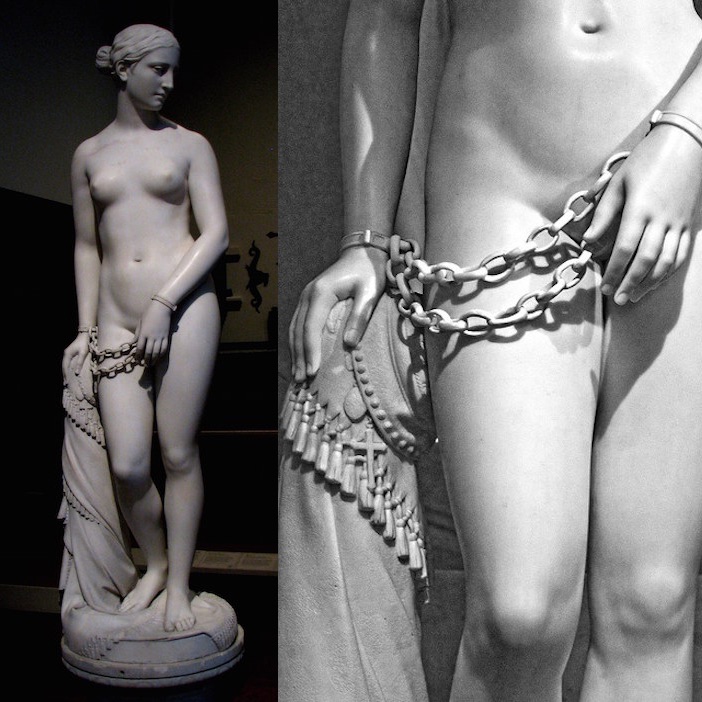 It was sensational and scandalous. It was the first time many Americans had ever seen a sculpture of a nude female figure as it was the first publicly exhibited, life-size, American sculpture depicting a fully nude female figure. One flyer for an exhibition claimed that 50,000 visitors a day had seen the sculpture.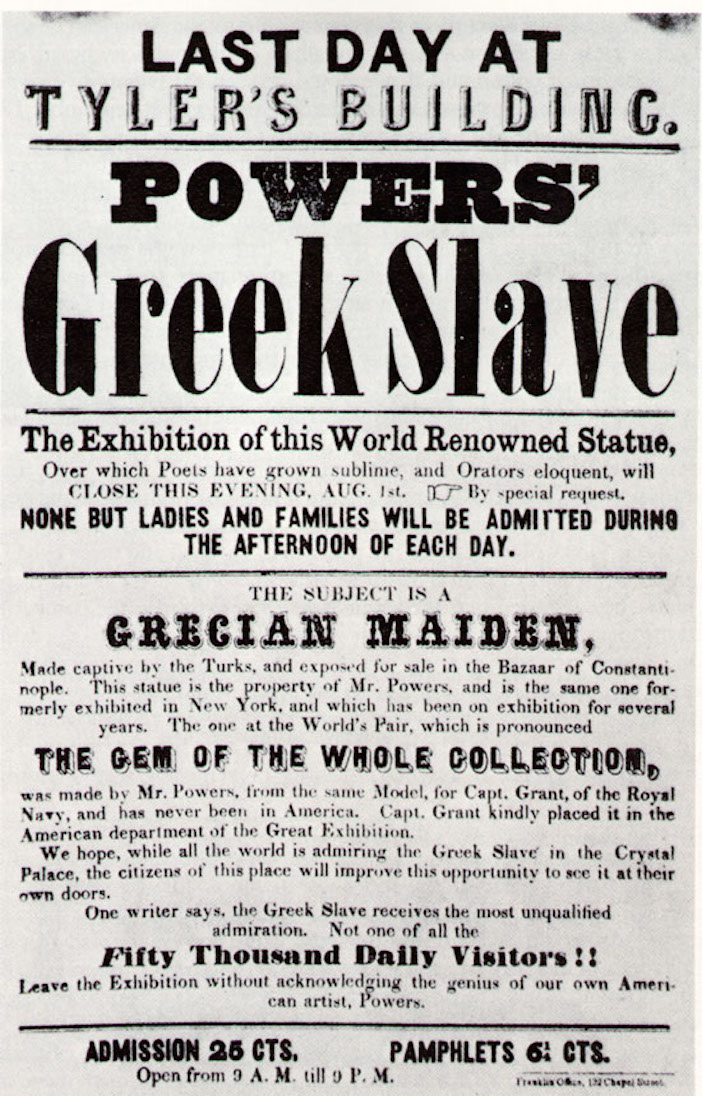 Powers originally modeled the work in clay, in Florence, Italy in 1843. The first marble version of the sculpture was completed by Powers' studio in 1844 and now resides in Raby Castle, England, with original life-sized reproductions from the original cast in the National Gallery in Washington DC, the Newark Museum in New Jersey, the Yale University Art Gallery and the Brooklyn Museum. The Smithsonian American Art Museum has the original plaster cast from which these above marble copies were produced.
Powers himself told the story of the statue's subject:
"The Slave has been taken from one of the Greek Islands by the Turks, in the time of the Greek revolution, the history of which is familiar to all. Her father and mother, and perhaps all her kindred, have been destroyed by her foes, and she alone preserved as a treasure too valuable to be thrown away. She is now among barbarian strangers, under the pressure of a full recollection of the calamitous events which have brought her to her present state; and she stands exposed to the gaze of the people she abhors, and awaits her fate with intense anxiety, tempered indeed by the support of her reliance upon the goodness of God. Gather all these afflictions together, and add to them the fortitude and resignation of a Christian, and no room will be left for shame."