There are dozens upon dozens of edible and non-edible things you can do with authentic Greek yogurt.
In addition to acting as a great substitute for mayo and sour cream, you can take advantage of the health benefits of its power-packed proteins and probiotics to make your desserts — yes, healthier.
You can even use it to look and feel better — face and hair included — as proven and used often by the world's top health and beauty experts.
But whereas those are just a few options, below we have put together a list of 12 things to consider trying with Greek yogurt.
1. Make Spreadable Cheese
Place 3-4 layers of cheesecloth in the bottom of a colander set over a large bowl. Add the Greek yogurt in the cheesecloth (feel free to add salt, herbs, or spices to the yogurt first for flavored cheese and mix together well or leave it plain for a white cheese) and put the bowl in the refrigerator and let it strain overnight. In the morning you'll have soft, spreadable yogurt cheese — a much healthier (and tastier) alternative to traditional cream cheeses that you buy in the grocery stores. One great recipe: add olive oil, lemon zest, salt, pepper, chives, thyme, tarragon and basil, and let the flavors meld. Spread on toast, or Greek "paximadia" or rusks. Add chopped tomatoes and recreate your own variation of the traditional Cretan Dakos — our alternative to the Italian bruschetta.
2. Turn Your Cheesecake Into Yogurt Cake
Numerous recipes abound for Greek yogurt cheesecake that we've published already, including cheesecake with pomegranate syrup, lemon honey and cheesecake with ouzo-poached figs.
3. Deep Condition Your Hair
The fat in Greek yogurt makes a great moisturizer for your head of hair. Use it as a deep-conditioning treatment by applying full-fat plain Greek yogurt directly to your hair. Cover your head with a shower cap and let the Greek yogurt soak into your hair for 30 minutes. Then, wash your hair as you regularly would with your regular shampoo and see the results for yourself. After you see the results, feel free to throw away those expensive conditioners that could also be using chemicals that could be harmful to your scalp and hair and remember that your alternative "all natural" conditioner came from the love… of a cow.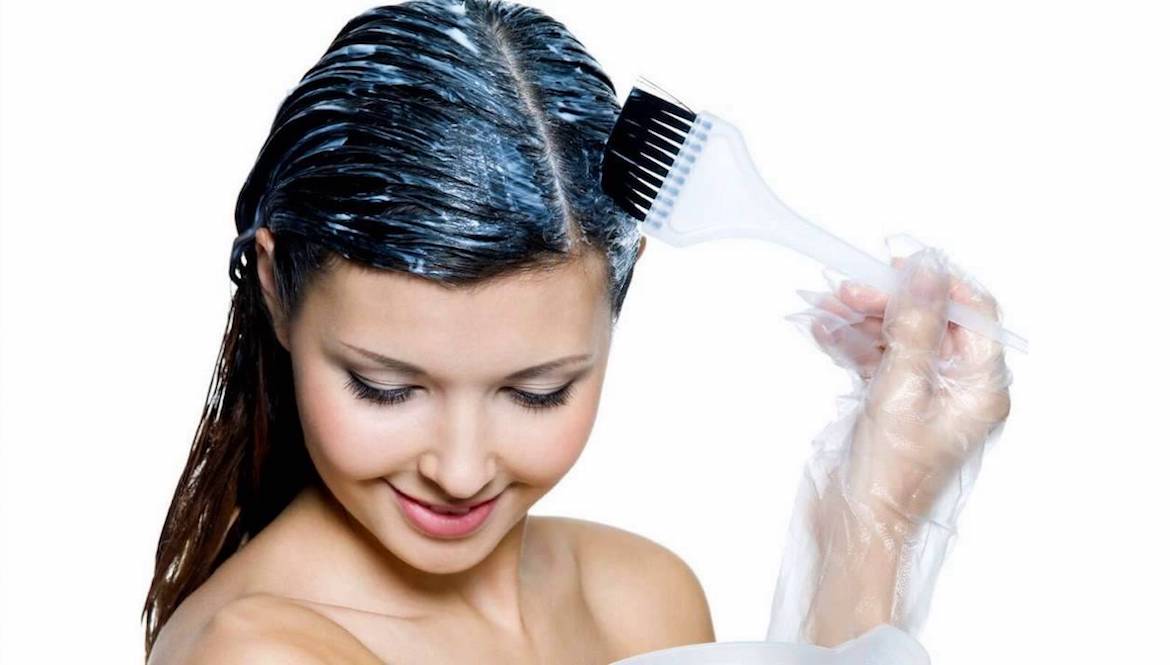 4. Moisturize Your Skin & Fight Acne
Greek yogurt is also a great moisturizer for your skin. You can buy a number of beauty products with Greek yogurt in them — Korres Natural Products is one brand that's made great use of Greek yogurt including moisturizers, sleeping facials, after sun relief and face creams — or make your own moisturizing mask by combining plain Greek yogurt with a little bit of honey. Leave the mixture on your face for 15 minutes before rinsing it off with warm water and a washcloth. More research is needed but preliminary studies suggest that, when applied topically, the probiotics in Greek yogurt can help heal acne and may also create a barrier that prevents new acne-causing bacteria from reaching the skin.
5. Relieve a Sunburn
Even though more research is needed to confirm the restorative effects of topically-applied probiotics on your badly-burned skin, we guarantee you that creamy, cold Greek yogurt will feel great when applied to sun-burned skin. If you don't believe us, ask any Greek yiayia and she will confirm the success of this age-old home remedy that's been used for generations on Greece's sun-spoiled island towns and villages. Again, if you feel leery about adding the yogurt you eat to your skin, try Korres Natural Products' line of after sun skin relief that adds the same benefits that a dollop of your Greek yogurt would give you.
6. Replace Mayonnaise or Sour Cream
Just about any recipe that calls for mayonnaise or sour cream can use plain Greek yogurt instead. Try it in mayonnaise-based salads and sour cream-based dips for an extra punch of protein without sacrificing flavor. It's also great for adding the cream that is necessary in dairy-based soups like cream of chicken or mushroom soup. The end result is a tastier and healthier alternative. Canadian blogger, chef and author Peter Minaki also has bunches of recipes in his book The Everything Mediterranean Cookbook.
7. Replace Some Butter in Baking
If you're looking for ways to reduce fat in homemade baked goods, try swapping some of the butter for low-fat or non-fat Greek yogurt. As an added bonus, Greek yogurt will also make your baked goods incredibly tender and moist. As always, you'll have to test, or consult cookbooks for proper amounts to use. The good news is that yogurt for butter replacements have been tested and the results are great. In his other cookbook, The Big Book Of Mediterranean Recipes: More Than 500 Recipes for Healthy and Flavorful Meals, Peter Minaki includes a lot of recipes, information and tips.
8. Spruce Up Your Dog's Daily Meal
Yogurt is a good source of calcium and protein for your pooch best friend and also adds a bit of pizazz to your dog's kibble. Toss in a tablespoon or two in his meal and watch him lick his chops when he's done. Be sure you give your pooch plain and low or no-fat Greek yogurt.  Add a sprinkle of Greek olive oil and watch your dog's coat shine, adding healthy oils with only a few daily drizzles. Make sure not to serve your dog sweetened yogurts or flavored, as sugar can harm them.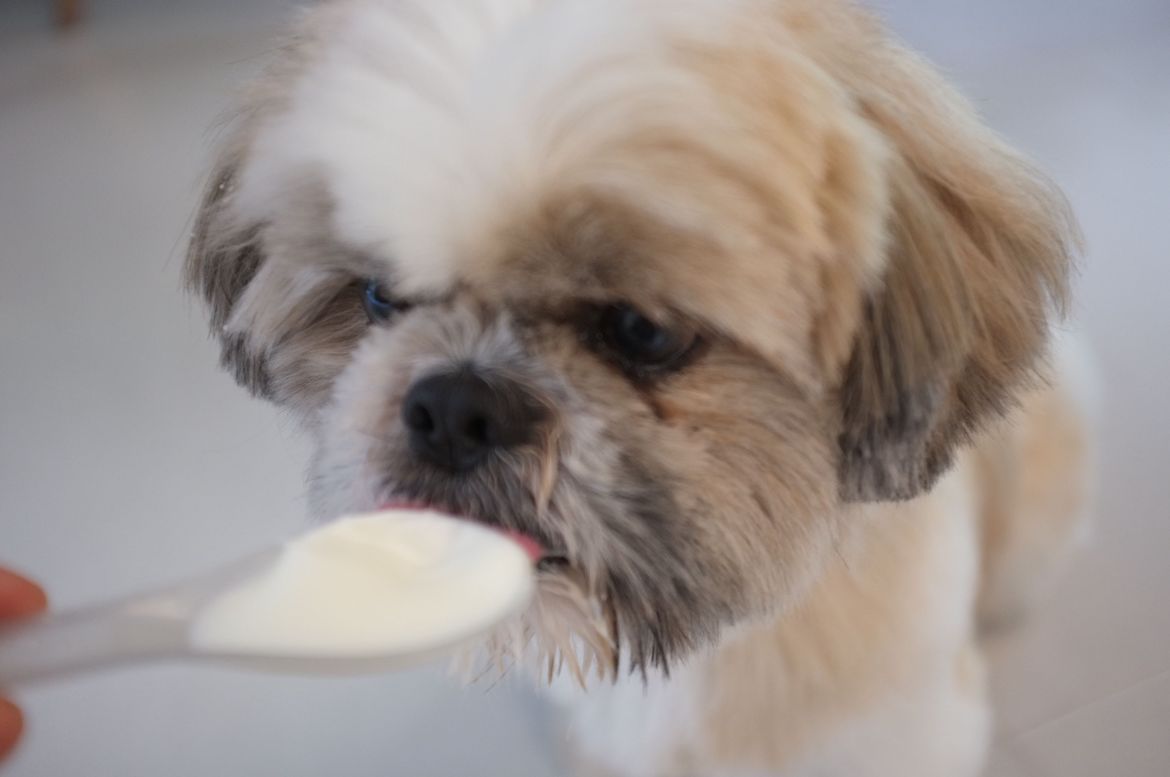 9. Marinate Your Chicken
Greek yogurt tenderizes meat while adding flavor. Toss chicken with Greek yogurt and cumin for a creamy, tangy marinade that won't dry out your dish. You'll cut fat, add tons of flavor, and keep your dish moist and tender. This is the way Chef Maria Loi marinates her chicken recipes in The Greek Diet. The yogurt marinade works great with cubed chicken for grilled souvlakia, since the pieces are smaller, allowing the creaminess of the yogurt to penetrate the meat.
10. Make Popsicles for your Kids
Forget artificial flavors, colors, and sweeteners in store-bought popsicles. These all-natural homemade popsicles contain a blend of Greek yogurt, honey, lemon juice, and your choice of frozen berries. The fun part is tending to your family's tastes. Making them is also a great activity for your kids. Here's a simple, four-step process: (1) Use a food processor to purée berries, Plain, Strawberry, Vanilla or Blueberry flavored Greek yogurt. Add lemon juice and honey until smooth. (2) Divide mixture among freezer-pop molds, stopping about 1-inch from the top. (3) Freeze until firm, about 6 hours. Dip molds briefly in hot water before unmolding. (4) If you don't have freezer pop molds, use small paper cups. After filling, place a sheet of plastic wrap over top, cut a slit in center and add a popsicle stick.
11. Take the Devil Out of Your Deviled Eggs
What makes deviled eggs so sinister? The mayo, of course. Use Greek yogurt instead of mayo for the same flavor without the guilt. "You're going to get the extra protein, calcium and save on calories, fat, and saturated fat," says Allison Enke, RD, a dietitian for Whole Foods Market. We might just have to rename them heavened eggs — not only for the flavor, but for their guiltless goodness and added health benefits.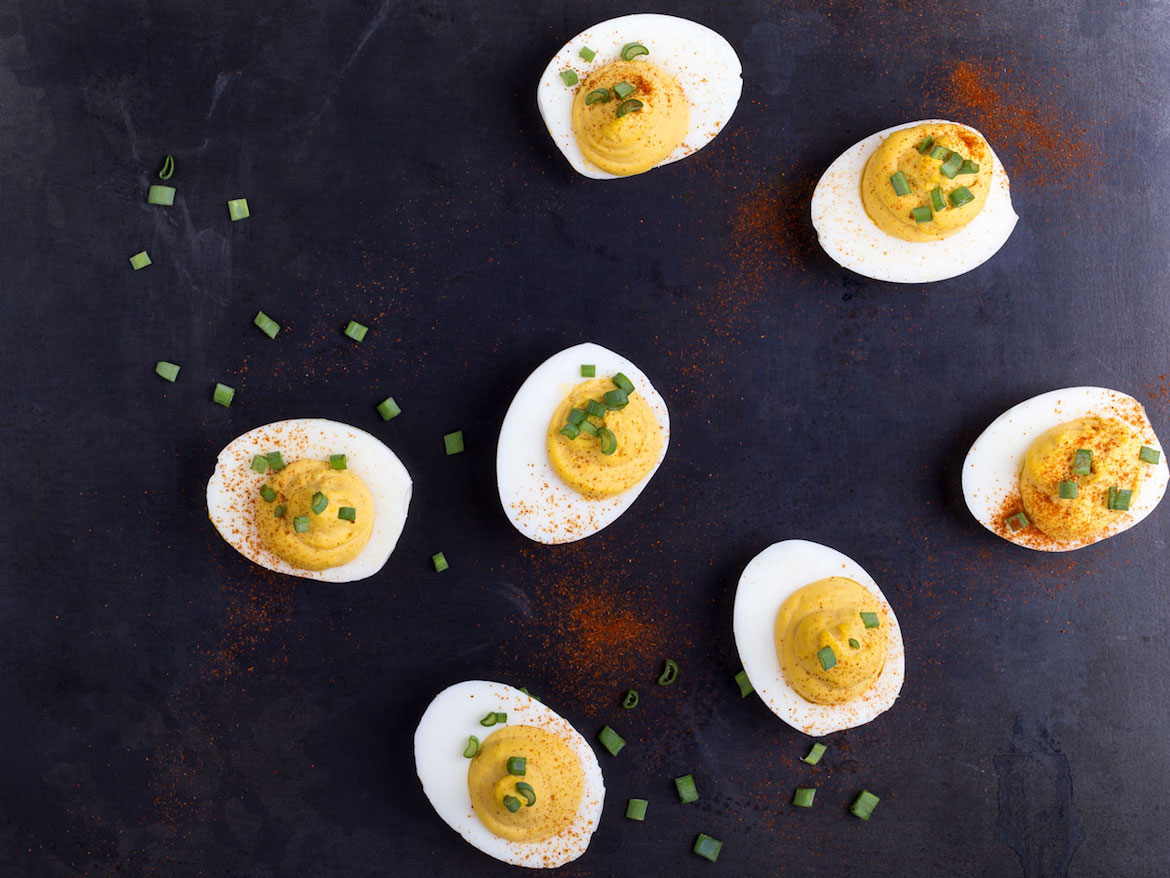 12. Make Whipped Cream
There are several ways you can replace the whipped cream that could be loaded with sugars and other fillers with a yogurt-based variation. Although the calories may not be very different, the health benefits will, since Greek yogurt is packed with proteins, calcium and probiotics.
Using a bowl of your favorite Greek yogurt, add a teaspoon of sugar and begin whipping in a blender. Different yogurts have different consistencies and therefore, the results may vary so it's best to experiment until you come up with the consistency you like for whatever use you need your whipped yogurt.
You can also play it safe and add a 1/2 cup of heavy cream to your yogurt during mixing to ensure the desired fluffiness of whipped cream. And if you're feeling ambitious, try adding a drop or two of vanilla, lemon or almond extract to create flavored whipped cream.
---
Is The Pappas Post worth $5 a month for all of the content you read? On any given month, we publish dozens of articles that educate, inform, entertain, inspire and enrich thousands who read The Pappas Post. I'm asking those who frequent the site to chip in and help keep the quality of our content high — and free. Click here and start your monthly or annual support today. If you choose to pay (a) $5/month or more or (b) $50/year or more then you will be able to browse our site completely ad-free!

Click here if you would like to subscribe to The Pappas Post Weekly News Update