While traveling around the world with Leon Logothetis and his Kindness One journey, we visited a tiny village outside Seim Reap, Cambodia. Sophea took us to see the village and meet a woman whose home was destroyed by a flood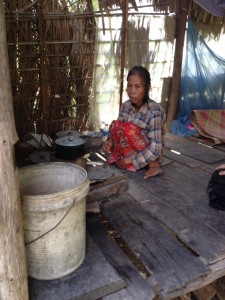 The woman— an HIV widow with full blown AIDS herself, had never left her village. Although she looked old enough to be my grandmother, she was actually my age— mid 40s. Her young son was also there. When I asked him where the bathroom was— he motioned to a grassy field behind the dilapidated hut where he and his mother lived— and told my interpreter: "Tell him to be careful because the field is full of cobras.
Despite her poverty and illness— she was full of strength and dignity. She knew she was "finished" and only wanted her son to be cared for when she would leave this earth.
Leon is traveling around the world relying on the kindness of strangers. I am one of the support crew, responsible for various logistic matters pertaining to public relations, production and marketing of the trip. I am honored and fortunate to be on this journey with Leon because without it, I would have never met Ewk, and her amazingly strong son Mai.
Ewk and Mai have given me a new meaning for my own life. And although I don't know which course it will take— I can assure you that I am changed.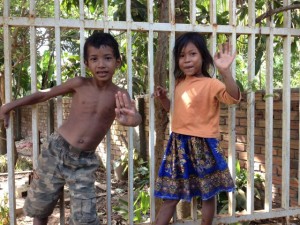 I sat there, looking at these children who probably will not make it into their 20s or 30s because of the deplorable conditions they face, or cobras… not to mention no access to basic medicine, and thought about my own life back in the United States and the things I occupy my own time with. I thought about the fundraisers and galas— the awards ceremonies to honor ourselves for being wonderful human beings and the noble efforts we were all making to help… the Greek financial crisis
I met kids who have nothing– not even a roof over their head. It's the rainy season and when I asked them (with an interpreter) how they stay dry at night when it rains, they answered "we take turns covering each other with our bodies".
I am questioning everything I have done and continue to do. Everything that I devote my own time, energy and resources to— from the Greek America Foundation, to my church and other community organizations… I am now wondering if these efforts are the best use of my time, my talents and my treasures, when there are more people "out there" living like Ewk and Mai than there are living the way we do.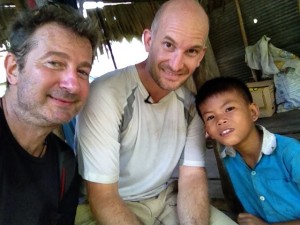 There are villages in Thailand who lose their girls at the ages of 9 and 10 when the sex traffickers come and (literally) steal them from their mothers' arms and transport them to the brothels of Bangkok. There are miles and miles of destitute Indians sleeping in their own shit— millions upon millions of them. There are countless villages in Cambodia surrounded by mine fields left over from a brutal regime— the result, hundreds of thousands of people missing limbs and tens of thousands of orphans
I don't know where the road to Cambodia will lead me… Stay tuned.
If you want to follow Leon's journey on Facebook, click here.