The Guinness International Champions Cup is off and running to an explosive start, thanks in large part to the excitement of Toronto Greeks who came out in full force to cheer their favorite Greek soccer team, Olympiacos.
The match was the first one of the tournament, which was originally scheduled for New York's Citi Field before being shifted last month to Toronto. The eight-team tournament runs through Aug. 4 with games in Ann Arbor, Mich., Berkeley, Calif., Charlotte, Chicago, Dallas, Denver, Miami, Minneapolis, New York, Philadelphia, Pittsburgh and Washington, D.C.
Milan and Olympiacos are joined in Group B by Liverpool and Manchester City. Group A features Inter Milan, Manchester United, AS Roma and Real Madrid. The two group leaders will meet in Miami for the title.
Alejandro (Chori) Dominguez, Dimitris Diamantakos and Andreas Bouchalakis scored for Olympiacos, which was full value for the win in a game short on fireworks— typical in European stadiums but rare in safety-conscious North American fields.
Olympiacos came close to going up 2-0 in the 39th minute but Thanasis Papazoglou's header off a corner was cleared off the goal-line by a Milan defender. Diamantakos upped the lead in the 49th minute, angling in a cross from France's Arthur Masuaku as Olympiacos punished some slack Milan defending. Bouchalakis scored Olympiacos' third goal in the 78th minute, on a long-range left-footed rocket of a shot.
The Greek side seemed to play at a higher tempo than the languid pace of Milan— blame that on jet-lag, according to the Milan coach. Milan coach Pippo Inzaghi pointed to a punishing schedule that had his team arrive at 2 am the day of the game from New York after two days travel from Italy.
The social media was abuzz with images of the fireworks popping up on Instagram and Twitter. Some fans opted to partake in the selfie craze and score a pic with their favorite players. One of those fans ran on the field late in the game and took a selfie with an Olympiacos player. He was escorted out after the photo op.
Another fan then did it with a Milan player, taking a tumble en route. Two more were grabbed before they could follow suit.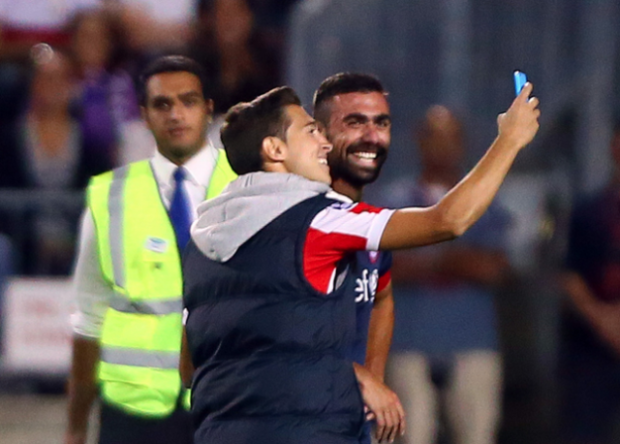 Chicago Greeks will have the next opportunity as Olympiacos travels to the Windy City to play Liverpool on Sunday, July 27th at 5pm. The team will be welcomed with open arms, thanks to a popular support group and children's camp, founded and run by avid Olympiacos fan Yiannis Kosmas. A series of events and receptions are planned to welcome the Greek team.
Olympiacos Chicago has reserved game tickets for the match so that all Olympiacos supporters sit together.
(Thanks Tony Lourakis for providing the videos!)