Sidney Poitier: Forever Homeric in My UU Greek-American Family
Sidney Poitier would have turned 95 just this past February 20. As the weeks have accumulated since hearing the end-of-an-era news earlier this year that Mr. Poitier had died, he remains much in my mind as an essential "companion" of my grade-school wonder years growing up in the Sixties. I count myself lucky that our lives overlapped for so long.
Frankly, I've been lucky since before I was born. For example, I can thank my four Greek-born grandparents for introducing me to the wonder that was Sidney Poitier – grandparents who never knew a person named Sidney Poitier ever existed and, in fact, grandparents who mostly had never even heard of me. Three were lost to old age and illness before I was born, and the last crossed the river Styx in 1960 when I was 3. Still, all four loom large in my life to this very day.
How, indeed, was I lucky enough to have two Greek immigrant grandmothers (one in Chicago and one in Ft. Wayne – and both born some 140 years ago) who in the 1920s possessed the beauty of spirit and the common sense to impart to my Illinois dad and my Hoosier mom the sentiment "Didn't God make us all!"?
That simple, elegant advocacy for human kinship — spoken in Greek — left a lasting impression upon two flapper-era elementary-schoolers confused by the Jim Crow world they saw all about them and asking my two Greek "yiayias" for some answers.
And how was I lucky enough to have two shoe-repairing grandfathers … And how was I lucky enough to have two shoe-repairing grandfathers who enthusiastically hired skilled, young African American men to run each shop's long row of brass-fixtured, elevated shoeshine chairs – Greek "papous" whose own spirits were warmed by watching my parents and their siblings learn a nuanced craft and art from these youthful, much-adored mentors and who insisted to my "kid parents" by example and word that every person they met, regardless of race, was a coequal deserving of dignity and respect?
And so because the twigs that became my parents were bent that way, I received the gift of Sidney Poitier entering my life as one my heroes in 1963, the October I turned 7. My parents by then were devoted Sidney Poitier fans, and they made sure to take my two older sisters and me (a crew-cutted first-grader at Indianapolis School 70) to see Lilies of the Field that year when it came to town.
As young marrieds in the 1950s, my parents became lifelong Unitarians that decade precisely because of the denomination's 200-year American commitment to civil rights, joining Indianapolis' All Souls Church (where I was lucky once again — being flower-dedicated there as a toddler by the singularly historic UU minister, racial-justice firebrand and eventual family friend Jack Mendelsohn). 
And as Lilies of the Field found its way into theaters across the country in 1963, my mother Sophia had just begun work on a master's thesis at Indianapolis' Butler University advocating the urgent need for school desegregation, a battle she and my father Nick continued to wage with pen and voice in the late Sixties as parents proud to send their daughters to Indianapolis' most integrated high school — Shortridge, the alma mater, by the way, of Unitarians Kurt Vonnegut and his author/screenwriter friend Dan Wakefield (recently depicted as a young reporter for The Nation in ABC's 2022 Emmett Till miniseries).
On that long-ago family night in 1963, as the lights dimmed, the curtains parted (movie theaters actually had parting curtains back then) and Lilies of the Field unfolded on the big screen, I couldn't take my 7-year-old eyes off Sidney Poitier from the moment he turned that wondrous Swiss Army knife of a Plymouth station wagon through small clouds of desert dust into an Arizona convent full of English-language-learning nuns and the unexpected.
Resplendent in his matching light beige Lee denim jacket and jeans, his wonderful voice and way – his easy masculinity – transfixed me from the start. Naturally, my sisters and I – even young as we were – were thrilled a few months later to find we had seen the movie starring the man who won the Academy Award for best actor.
From that sweet Lilies of the Field evening on, there was a new revered member in my personal juvenile pantheon joining Roy Rogers, Jim Thorpe, John Glenn, Amelia Earhart, the Hoosier State's own Oscar Robertson and Fess Parker — all a reminder today of the great good fortune to have learned at so young an age that all kids deserve an ever-widening human rainbow of heroes and heroines. 
Later, of course, in that historic civil rights decade, as I turned from 10 to 11, came that breathtaking Poitier cinematic stretch of 1967-68, and you can bet that my parents enthusiastically and happily made sure we all went as a family to see To Sir With Love, Guess Who's Coming to Dinner, In the Heat of the Night and For Love of Ivy. None of these films – nor any of their Sidney Poitier performances – have ever left me.
After Lilies of the Field, and before Sidney Poitier gave us in 1967 perhaps the most incredible single year on film by any actor ever, came the now-indelible memory of my parents taking us to Monument Circle in the heart of downtown Indianapolis – in response to the 1965 Edmund Pettus Bridge "Bloody Sunday" tragedies in Alabama and a slew of other racial injustices plaguing the nation – to join hands with many of our All Souls friends and hundreds of others of all races and sing "We Shall Overcome," a song played many years later in the 21st century at my parents' UU memorial services in honor of the sacrosanct lessons they and my grandparents bequeathed as our most important inheritance.
We were particularly proud of our dual heritages, of course, when in March 1965 we found in our daily College Avenue mail the LIFE magazine showing on its cover Greek-American Archbishop Iakovos standing alongside Dr. Martin Luther King as both men honored slain civil rights leader and Unitarian minister James Reeb.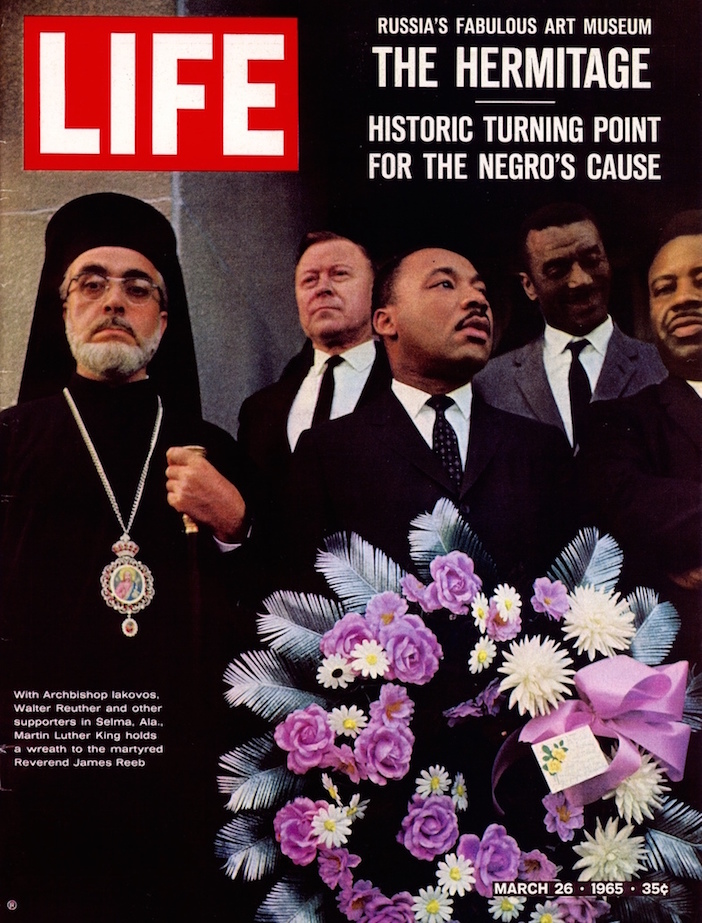 The message of that magazine cover and that Indiana afternoon spent in a massive, gentle, like-minded crowd encircling the Hoosier capital's most famous landmark – coupled with Sidney Poitier's electrifying performances – made his "big three" movies of 1967 all the more impactful upon the developing minds and hearts of three Indianapolis siblings.
In taking us to these Poitier films, my parents made sure – in this and a thousand other ways – that the life of their white, Euro-descended American son was changed forever and for the better. And their life lessons and movie choices also left me with a reminder that, frailty-filled species that we are, the refining of our hearts, spirits and minds is an endless task we confront until our last day on earth – meaning, for example, that not a citizen among us should ever be permitted to utter anything like the phrase "I don't have a racist bone in my body" (at least not if they're really serious about actually recognizing and reducing bigotry on the planet).  
Recognizing and then doing our best to purge even the tiniest ever-present bigotries in ourselves surely must be a lifelong exercise – not for any self-flagellating, political-flavor-of-the-month reason, but because, you see, insidious bigotry is always both ridiculous and illogical. And there's never been a human being made who has zero percent ridiculousness and illogic.
Today, as many of us try to hold tight to justice and democracy, I know that my parents, descendants from one of democracy's birthplaces and from four of democracy's ablest practitioners, long ago recognized much of Sidney Poitier's work on screen as a defense of true democracy and all we should hold dear.
My father's favorite book was any translation of the Odyssey. He passed the love for that tale on to me, so I know an epic hero when I see one. And Sidney Poitier, actor — who, with poetic coincidence, played a man named Homer the night I "met" him in 1963 — was nothing less than Homeric. I was right as a 7-year-old – righter than I could ever have possibly imagined at the time – to recognize him in the flickering darkness as a true hero. His own odyssey of trials and triumphs in Hollywood is a story for the ages.
We happily comfort ourselves that in the magic, transportive time machine of film, Sidney Poitier will live always – a feat also achieved by Homer's ancient work and by Homer's greatest hero. May there ever be, as well, a safe and welcoming home for the likes and memory of Sidney Poitier in the waiting and yearning Ithaca of our hearts – and in hearts yet unborn.
So efkharisto, grandparents four. Efkharisto again, Mom and Dad. And now — reflecting with a mixture of sadness and celebration upon a long life remarkably well-lived and a 95th birthday not quite reached  — I say with the warmest and most grateful of smiles, efkharisto, Mr. Poitier. 
George Gonis' family family history is immersed in All Souls. His thoroughly Greek-American parents became Unitarians in the 1950s immediately upon hearing All Souls minister Jack Mendelsohn on local Indianapolis radio speak out on behalf of civil rights. He was flower-dedicated as a toddler at All Souls by Rev. Mendelsohn in 1958. As children, he and his siblings memorably joined with fellow All Souls members on Monument Circle in 1965 in a mass gathering of civil rights solidarity. And All Souls' own Sandy Reiberg was the Gonis family longtime childhood babysitter!
---
Is The Pappas Post worth $5 a month for all of the content you read? On any given month, we publish dozens of articles that educate, inform, entertain, inspire and enrich thousands who read The Pappas Post. I'm asking those who frequent the site to chip in and help keep the quality of our content high — and free. Click here and start your monthly or annual support today. If you choose to pay (a) $5/month or more or (b) $50/year or more then you will be able to browse our site completely ad-free!

Click here if you would like to subscribe to The Pappas Post Weekly News Update