I spent the week in Athens working on pre-production for a short film I'm producing about the survival story– about the miraculous survival story– of the only Jewish community in all of Nazi occupied Europe that survived the Holocaust intact.
It's a remarkable story that needs to be shared– not only or its historic value and importance to be remembered, but for its human element.
In addition to the short film, which has actors, a script and tells a story, we are also shooting a parallel documentary that will accompany the film. The documentary, directed by Yannis Sakaridis, will involve no actors or sets created by production designers like our short film will.
The documentary will star real life participants of this story– those individuals who lived during the epic times when the Nazis arrived on the island of Zakynthos with orders to round up every last living Jew and transport them to the mainland and then by train to Auschwitz.
Last December we were fortunate to capture on tape, the gripping testimony of Lilly Carrer, the wife of Mayor Loucas Carrer, who together with the Greek Orthodox Metropolitan Archbishop of the island, risked their own lives to save the 275 Jews of the island.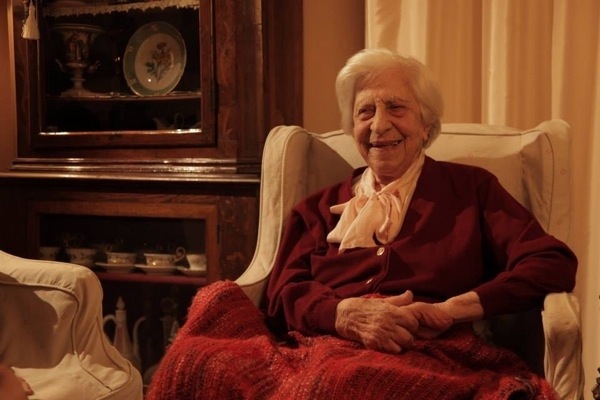 Lilly, who is now approaching a century of life on this earth, took us back to the day the Nazis arrived on the island and demanded the list of the Jewish residents.
This past week in Athens, we heard from Haim Konstantinis, who was hosted in Athens by Aegean Airlines and the King George Hotel.
Haim, whose name in Hebrew means "life" shared his own stories of Nazi-occupied Zakynthos and how he and his family were not only hidden– but protected by the island's residents.
Haim is the personification of life. He shared his stories on camera and off with the same exuberance and zest and often cried from happiness when he recalled a slice of bread that his "savior" mother gave him, or when he and his father were spared being captured by a Nazi guard when a villager diverted the Nazi's attention allowing him and his father to turn a quick corner and evade him.
The night before we bid farewell to Haim, we took him to Bairaktaris, a well-known taverna in Monastiraki with live music and fabulous kebabs.
As the bouzouki began to strum the tune "S'Agapo Giati Eisai Oraia" (I Love You Because You Are Beautiful), a well-known Greek song about love and life, Haim stood up, took the microphone and began singing.
It was a remarkable experience watching Haim sing– dedicated to his beautiful wife of 61 years Miriyam. When I hugged him at the end of the song and commented on his great singing abilities, he commented… This song was dedicated to my beautiful wife… But also to beautiful life.
It was at that moment that I realized just how important this project I was producing really was and what an awesome responsibility I had to bring it to full fruition.
That despite all of the horror and evil that was the Holocaust, one of the darkest periods in all of human history, that a miracle happened on the island of Zakynthos, when a courageous mayor and archbishop reminded their citizenry of 35,000 residents what it meant to be human and to defend life– at all costs.
For information about these important film projects or to add your name to the growing list of donors and supporters, visit the website.
Want a treat? Watch Haim sing this beautiful song.