A perfect summer treat and straight from the pages of her cookbook Mediterranean Vegetarian Feasts, Julia Child award-winner Aglaia Kremezi shares her recipe for Almond Cookies, or amygdalota, made the flourless way on the Greek island of Kea — which has been known for its almond crop for centuries.
The flourless almond cookies of Kea are traditional festive treats prepared for weddings and christenings and for other joyous family occasions.
In Mediterranean Vegetarian Feasts, Kremezi, who introduced Greek cooking to American audiences more than a decade ago with numerous best-selling cookbooks and appearances, has gone back to her roots, rediscovering the delicious, fresh, healthy, easy-to-make recipes she grew up with — including Flat Bread with Dried Figs, Spicy Cheese, and Rosemary; Santorini Favas with Braised Capers and Onions; and more.
Kremezi's book will appeal to even the most avid meat lover with a cornucopia of 150 simple, yet abundantly flavorful, plant-based seasonal dishes.
Attractive to the ever-expanding vegan and vegetarian market, as well as for fans of Mediterranean cooking, Kremezi's arsenal of master recipes for spice, nut, and herb mixtures, sauces, jams and pastes inspired by eastern Mediterranean and north African traditions will transform even the most humble vegetable or grain into an irresistible dish.
See the ingredients and instructions below to bring this Greek island favorite into your own home today.
Visit her website for more great recipes.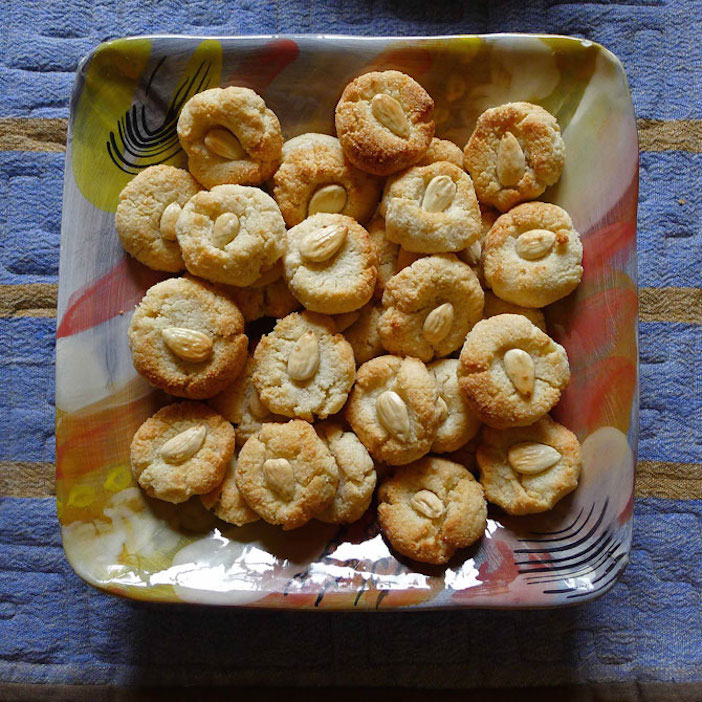 Ingredients
For 60 almond cookies
2 pounds finely ground blanched almonds , or un-skinned, if you like
2 cups sugar
6-7 egg whites 1/4 teaspoon Salt
Almond extract (optional)
Citrus blossom water, as needed
3-4 tablespoons Lemon Liqueur, as needed (optional)
About 60 whole blanched almonds
Instructions
1. In the blender or mixer grind the almonds with the sugar to a polenta-like consistency.
2. Beat the egg whites with 1 tablespoon sugar and a pinch of salt to form soft peaks.
3. In a large bowl combine the almonds and sugar, adding a few drops of almond extract, or 1 tablespoon citrus blossom water. Gradually add enough egg whites to make a mixture that can be shaped into cookies. Be careful at this stage because you don't want to make a wet paste –you may not need all the egg whites.
4. Preheat the oven to 325 F.
5. Wetting your hands with liqueur or orange blossom water, take walnut-size pieces of the almond mixture and briefly roll on your palms to form into balls. Flatten slightly, pushing your finger at the top to make a dimple where you stick a whole almond. Place on a baking tray lined with parchment paper.
6. Bake for about 15-20 minutes, or until lightly golden both on top and at the bottom. Be very careful NOT to dry them. The almond cookies must be hard on the outside and still somewhat wet and soft inside. They may appear soft as you take them out of the oven but they harden as they cool.
7. Let cool completely, and store in air-tight boxes.
NOTE: If you can resist eating them all, the almond cookies can be frozen for up to 4 months.
---
Is The Pappas Post worth $5 a month for all of the content you read? On any given month, we publish dozens of articles that educate, inform, entertain, inspire and enrich thousands who read The Pappas Post. I'm asking those who frequent the site to chip in and help keep the quality of our content high — and free. Click here and start your monthly or annual support today. If you choose to pay (a) $5/month or more or (b) $50/year or more then you will be able to browse our site completely ad-free!

Click here if you would like to subscribe to The Pappas Post Weekly News Update