Two certified yoga instructors and wellness enthusiasts from Chicago are planning a healing retreat to Greece in June 2022 and spots are now available for booking.
The retreat includes experiences such as daily meditation and journaling practice on the beach; yoga classes and workshops; cultural excursions; local food and native village life; Greek dancing and language instruction and more.
Co-hosts Paul Grosso and Antonia Callas grew up spending summers in their ancestral town of Finikounda, a small village in the Peloponnese and the location for the retreat. Both hosts have spent countless weeks immersed in the Mediterranean lifestyle, learning firsthand from relatives about natural health and wellness practices.
Grosso spent three years living in Greece and studied music performance at the Hellenic American University in Athens. In February 2020, he launched a personal brand called Musical Mindset which combines his passion for music with health and wellness techniques and alternative medicine.
"Musical Mindset is all helping people, communities and the world heal from this fast-paced, over-stimulated world to reach their highest self and feel bliss from within," Grosso says. "I am so passionate about this is because I went through many struggles in my own life which led me to be a more spiritual, loving human."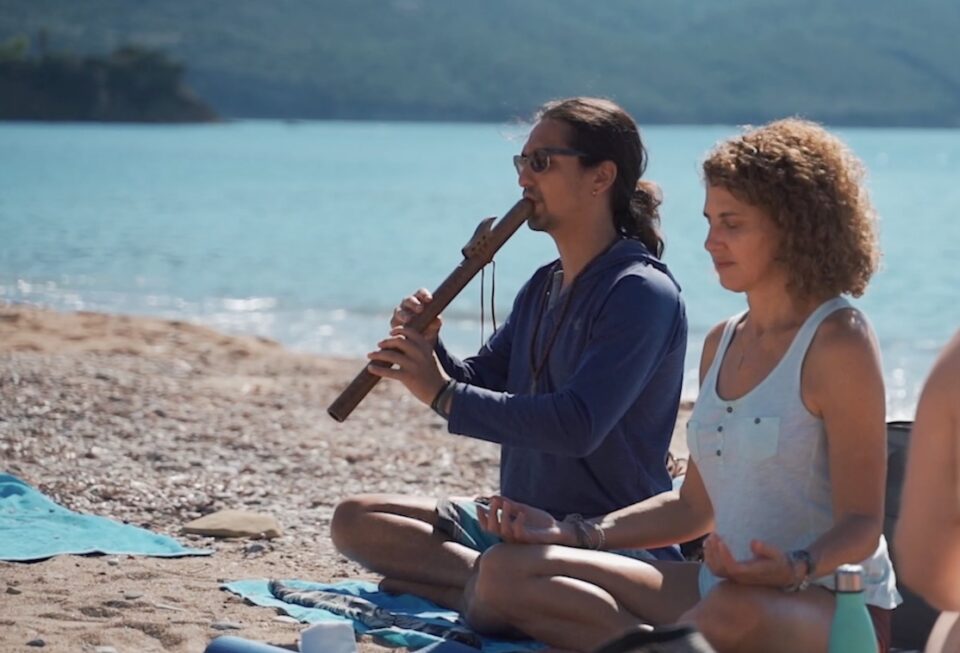 Callas is a writer, dancer, and the founder of a women's group dedicated to recovering what she calls "the wild instinct." Antonia has studied with healers and shamans throughout the United States and frequents various yoga studios in the Chicago area.
"From the moment you arrive in Greece, you will experience 'philoxenia,' which literally translates as "friend to the stranger," but it's a lot deeper than that," Callas says. "Since ancient times, hospitality was a highly-ranked value, with great respect and friendship given to guests."
The 2022 retreat will run from June 10-17 at Hotel Estia in Finikounda, which was established in Phoenician times and is located on a bay known for its sandy beaches. This is the second retreat to Greece that Grosso and Callas have planned together, the first having taken place in October 2021.
"This trip is a lifelong dream and you should come and enjoy the views and the people — it's beautiful," says Yenth'l, a past participant. "[You should] enjoy dancing and singing and everything that's fun about Greece."
Grosso and Callas say their aim is to teach participants about philosophies espoused by the ancient Greeks — that each person should maintain a balance in their physical, mental and spiritual lives.
"We have taken this philosophy to heart," Callas says. "Each day of this retreat we want to give people the chance to experience personal growth, physical health and self-knowledge."
For more information about the trip, including pricing and bookings, visit the official retreat page. To watch a video recap of the October 2021 retreat, click here.
---
Is The Pappas Post worth $5 a month for all of the content you read? On any given month, we publish dozens of articles that educate, inform, entertain, inspire and enrich thousands who read The Pappas Post. I'm asking those who frequent the site to chip in and help keep the quality of our content high — and free. Click here and start your monthly or annual support today. If you choose to pay (a) $5/month or more or (b) $50/year or more then you will be able to browse our site completely ad-free!

Click here if you would like to subscribe to The Pappas Post Weekly News Update