Author Philip Duke was born in Liverpool, England, but by his personal accounts he is a lifelong "hellenophile" — someone with an affection for all things Greek.
Duke's love affair with Greece began during his younger years as a schoolboy and culminated in him and his wife Donna living for a few years on the island of Crete, where he found the inspiration for his two Greek-inspired novels.
His academic background stems from archaeology, which he studied at the Universities of Cambridge and Calgary. Thereafter he became a professor of anthropology at a small liberal-arts college in Colorado, in the United States, until he began what he called "early" retirement.
Duke is a Fellow of the Society of Antiquaries and hold memberships in the Historical Novel Society and the Writers' Guild of Great Britain.
He said he likes to write novels that "will bring enjoyment and perhaps a little knowledge about the past to my readers."
The following is Duke's story, in his own words, which he calls "A Hellenophile's Tale."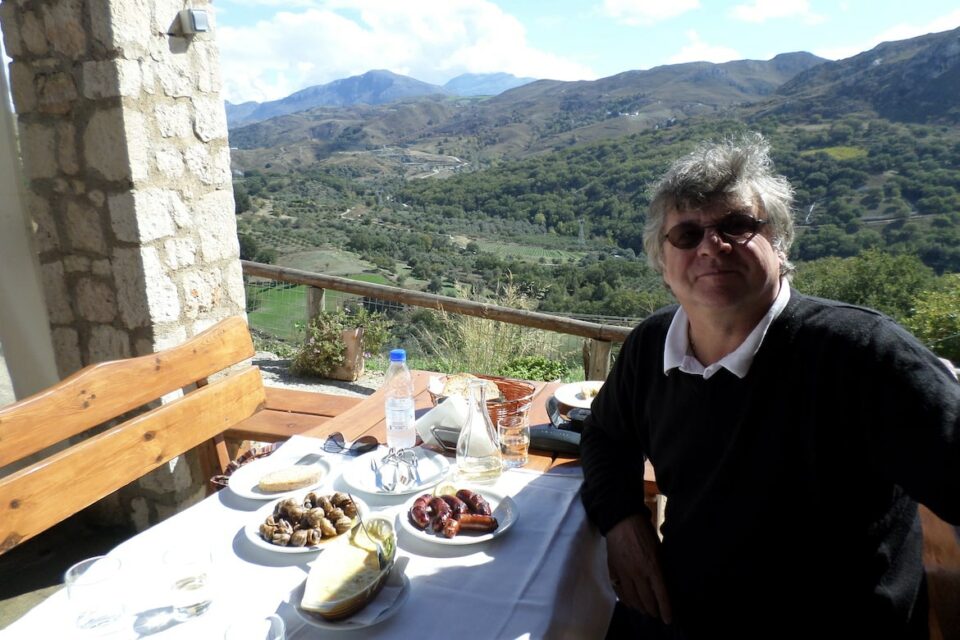 A thirteen-year old schoolboy shelters under the eaves of a dreary high school in Liverpool, England, as he tries to avoid the rain lashing down into the schoolyard.
A schoolmate runs across the yard, jumping across the puddles as best he can. The only way they can go inside, the schoolmate tells his friend, is to attend the meeting of the Classics Club. The two boys pull faces and decide nothing could be worse than that.
Suddenly there is a sudden gust of wind and the rain blows directly into their faces. The thirteen-year old decides double pneumonia is not for him and so, leaving his friend behind, he runs across the yard, tells the door prefect where he is going and enters a darkened classroom. He hides at the back of the room and watches as a Classics master shows slides of the Greek temples at Paestum, Italy.
The boy's mouth opens in wonder at their grandeur and beauty, and suddenly in a flash his whole world changes. He will learn about these temples, he promises himself, and he will explore all he can of this new and wondrous world flickering across the screen.
And so began my love affair with Greece, for, as you probably have guessed, I was that schoolboy. I first visited Greece as a student at Cambridge University where I read archaeology, and later I led trips for college students and community members to Greece as a professor of anthropology.
Finally I achieved a life-long ambition, and in 2010 my wife and I were able to move to Crete for five years until the call of impending grandchildren took us back to the States. Those years were idyllic but also eye-opening and often depressing as I watched Greeks struggle against economic and political inequalities. But above all, I was struck by and always will remember the philoxenia Cretans afforded us, and their love of life.
Of course, I never could get over some of their foibles, sometimes delightful, sometimes not so much. Two examples in particular stick in my mind. Our next-door neighbor insisted that I use Cretan pronunciation. So, "ochi" became "oshi," "kipo" became "chipo," "kokkino" became "kochino." You get the idea. She would become quite irate if I faltered!
Another example. One winter's day, we took off for Lake Kournas. The only restaurant that was open took us in and soon we were sitting in front of a roaring log fire, drinking delicious rough red wine. We ordered lunch, wolfed it down – it really was that good – felt happily full and then the owners brought out their own lunch and insisted we join them. How could we refuse? It was then that the inquisition started!
"Are you retired," the restaurant owner inquired. "How much is your pension?" Do you own a house here or are you just renting?" "What is your rent?" "Po Po, that's much too much. You need to meet my cousin, he will rent you a house for half that and it will be much nicer." All the while through this virtual monologue, he looked at me like a man trying to show an idiot relative some compassion. Perhaps he was!
Greece has given me so much, so it seemed only natural that when I turned to writing historical fiction Greece would loom large.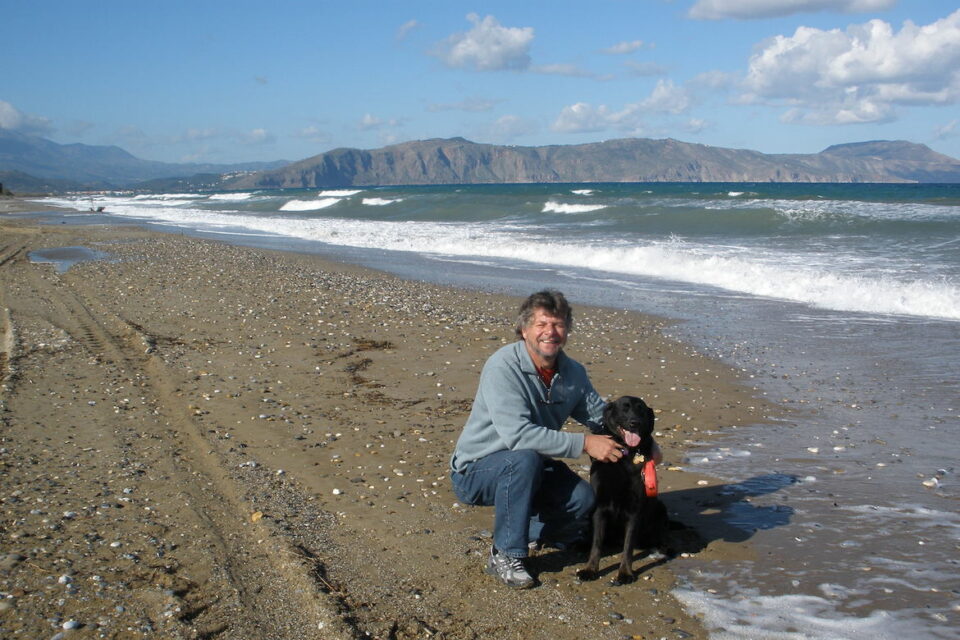 My first novel, A Terrible Unrest (2014), follows the travails of the fictional Andrakis family as Spiro and Maria leave Crete for the American dream at the beginning of the last century. They arrive in the coalfields of southern Colorado, tricked by the allure of coal-company recruiting posters.
But their dreams are dashed. The conditions in the mines and the town of Berwind, where the Andrakises live, are dangerous and unsanitary.
Spiro, Maria and their little daughter, Anna, all suffer individual horrific brutalities but somehow they survive. Spiro becomes a reluctant ally of the real-life Louis Tikas (Ilias Spantidakis, a Cretan from the village of Loutra), the union leader of the miners, as they fight for racial equality, workplace dignity, a living wage, and the other necessities of a decent life, now taken for granted far too often by far too many us (incidentally, the Greek miners were especially feared by the coal companies.)
The coalminers finally strike in September 1913 and are forced to live in tent camps through a brutal Colorado winter. As the coal companies and the Colorado militia become more and more violent, the powder keg explodes on April 20th, 1914. State militia attack the tent camp of Ludlow, where the Andrakises live, and at the end of the day men, women and children are dead, the youngest of whom is only three months old.
This is the infamous Ludlow Massacre. Do the Andrakises survive and live to tell the tale? Well, if I told you that it would spoil the story (by the way, I was one of the archaeologists who excavated Ludlow and Berwind two decades ago).
My second novel, a sequel to A Terrible Unrest, is titled The Village: A Novel of Wartime Crete (2019).  
The focus of the story is a fictional Cretan village that must confront the Nazi juggernaut sweeping across Europe. Four characters are front and center: Anastasia, a village matriarch (and the younger sister of Spiro Andrakis) who tries to hold her family together; her grieving son, Yianni, who finds a new life in the Cretan resistance; Paul, a naive English soldier who unwillingly finds the warrior in himself; and Dieter, a fanatical German paratrooper who is forced to question everything he believed in.
Through a brutal invasion and ensuing massacres, the lives of these four ordinary people are irrevocably entwined and their destinies changed forever as each of them confronts in their own way the horrors of war and its echoes down the decades. The ending to the novel has a bite to it… but that's all I'll say!
To say I enjoyed writing these two novels is an understatement. But writing them gave me more than enjoyment. It allowed me to express, in my own way, my deep love and respect for the island of Crete and its people.
Both books are published by Top Hat Books, an imprint of John Hunt Publishing. The books can be purchased through the publisher, through Amazon (both hard copy and Kindle) or through any bookstore.
For more information on these books, please visit my webpage.
---
About the author
Philip Duke is a native of Liverpool, England. After receiving a degree in archaeology from the University of Cambridge in 1976 he took a doctorate at the University of Calgary. In 1980 he moved to the United States and taught at Fort Lewis College, Durango, CO. He was elected a Fellow of the Society of Antiquaries in 1990. His initial research interests were in North American archaeology although he later switched to aspects of Greek archaeology. On retiring from Fort Lewis in 2009 he and his wife lived on the island of Crete for five years. It was during this stay that he developed his two novels "A Terrible Unrest" and "The Village." They now live just outside Durango in southwest Colorado.
---
Is The Pappas Post worth $5 a month for all of the content you read? On any given month, we publish dozens of articles that educate, inform, entertain, inspire and enrich thousands who read The Pappas Post. I'm asking those who frequent the site to chip in and help keep the quality of our content high — and free. Click here and start your monthly or annual support today. If you choose to pay (a) $5/month or more or (b) $50/year or more then you will be able to browse our site completely ad-free!

Click here if you would like to subscribe to The Pappas Post Weekly News Update