Hundreds of thousands of refugees– primarily from Syria– have landed on Greek islands in the past several months, fleeing war and devastation from their nation's civil war.
No group of people in all of Europe have been impacted more than people of Greece. Despite the fact that their country is broke and the government is hobbling through painful negotiations with European creditors– the people of Greece have shown dignity, humanity and compassion via numerous grass-roots efforts that have popped up throughout the country that are assisting arriving refugees.
As the publisher of The Pappas Post, an online publication serving an English language audience and covering "all things Greek," it has been painful to post story after story about dead babies washing ashore on the beaches of the Aegean and overturned boats taking human beings down with them to the bottom of the sea.
It has been heartbreaking following this crisis and the trials and tribulations of the refugees, as well as the stress the crisis has placed on the people of Greece.
But it has also been heartwarming watching the extraordinary actions of "average" Greeks, tourists and visitors to the islands who went on vacation and ended up participating in a humanitarian operation and so many regular people– already struggling under economic hardship– do extraordinary things.
As a Greek myself, it was inspiring to see the words we toss around so much when describing ourselves, put into use and action by so many people and organizations in Greece.
Philotimo. Philanthropy. Humanity.
There's the baker on the island of Kos who bakes hundreds of kilos of extra bread every day– so he can feed refugees.
There are the Kempsons, a British family who live on Lesvos who have aided thousands of people landing on beaches not far from their home.
And the shepherd on the island of Limnos who shares fresh milk from his herd with refugees who land on the island.
The tireless volunteers on Leros, Lesvos and Kos islands who, in my opinion, aren't humans– they're super-human heroes. The non-profits Agkalia (Hug) on Lesvos and Kos Kindness— and so many more operating with hardly any official support on the frontier islands.
There is Elena the shopkeeper on tiny Tilos who has coordinated, together with a team of volunteers on an island of 300 permanent residents, the safe arrival, medical care and feeding of over 5,500 refugees, serving over 10,000 hot meals.
The heroes of Thessaloniki and other cities in northern Greece who are camping out at train and bus stations, helping the refugees with food, toiletries, water and other items they will need for the long journey north.
The list goes on– there are so many stories you don't read in the mainstream media about "ordinary" people doing extraordinary things to help their fellow human beings in need.
Of course, I am not a dreamer living in some Greektopia, believing that all of Greece is welcoming these people with open arms. I am fully aware that many in Greece– even in the Greek diaspora who are either immigrants themselves or come from immigrant families, think these refugees are problematic. I won't engage in political commentary on whether or not what is happening is good, bad or otherwise.
The simple facts remain: (1) Thousands of refugees are in Greece and they need help. (2) More are on the way and no one, except the inept political leaders of Europe, can do anything about it. (3) My family raised me to respect humanity and to help people in need: Feed them, clothe them, make sure they are rested– and then ask them their business and help them along their way.
The purpose of this campaign is to support these people and the numerous NGOs (non-governmental organizations) operating in Greece with little or no help from government authorities or even international aid organizations.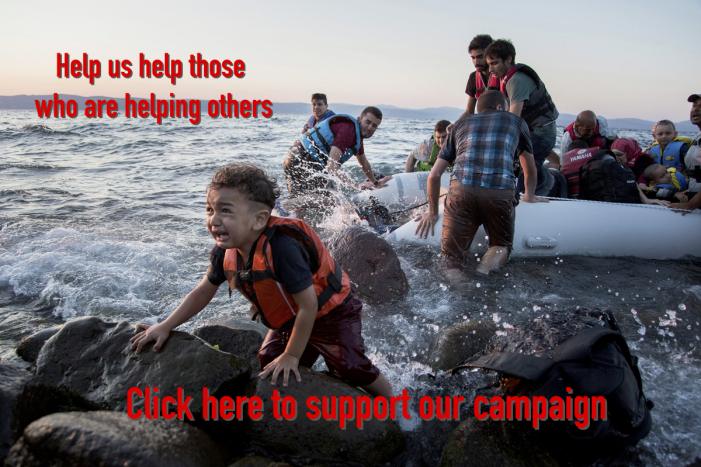 How this campaign will work:
With the funds we raise, a team of volunteers will assess the situation in each location and determine where the most support is needed. Under no circumstances will we simply hand someone or some organization money. We will use the funds we raise to help purchase items these individuals and organizations are in need of and we will handle the transactions on their behalf.
In other words, if a charity needs diapers for infant children, we will seek to identify the most cost-effective source and purchase the diapers. If an organization needs a roof built to weather-proof a refugee center, we will pay the construction crew directly.
Please consider supporting this effort. You can donate using this link, or share on your Facebook and Twitter feeds. It all helps.
---
Is The Pappas Post worth $5 a month for all of the content you read? On any given month, we publish dozens of articles that educate, inform, entertain, inspire and enrich thousands who read The Pappas Post. I'm asking those who frequent the site to chip in and help keep the quality of our content high — and free. Click here and start your monthly or annual support today. If you choose to pay (a) $5/month or more or (b) $50/year or more then you will be able to browse our site completely ad-free!

Click here if you would like to subscribe to The Pappas Post Weekly News Update