Irene Papas, the actor and singer who starred prominently in numerous blockbuster Hollywood films as well as French and Italian cinema over 60 years, died at age 93 on Wednesday.
"Magnificent, majestic, dynamic, Irene Papas was the personification of Greek beauty on the cinema screen and on the theater stage, an international leading lady who radiated Greekness," Greek Culture Minister Lina Mendoni said in a statement.
Prime Minister Kyriakos Mitsotakis tweeted a statement wherein he described Papas as a source of "admiration and inspiration" for generations of Greeks.
"The Greeks say an emotional goodbye to Irene Papas. She leaves behind a unique legacy in theater, cinema and song, receiving international recognition from an early age. She was an active citizen with courageous involvement in public affairs," Mitsotakis said.
"As perhaps the last representative of a great generation, she takes an entire era with her. An era that has always been symbolized by its magnificent form. And which will forever provoke awe, admiration and above all inspiration. Condolences to her loved ones," he said.
Papas first received international fame for her performances in Hollywood hits such as "The Guns of Navarone" (1961) and "Zorba the Greek" (1964), where she co-starred with household names Gregory Peck and Anthony Quinn.
She launched her career in Greece in the 1940s and 50s, and was soon championed by film director Elia Kazan which led to her signing a contract with MGM in 1955. During her approximately 50-year career, she made more than 70 films in her native Greece and internationally.
Papas also starred in ancient Greek tragedies and many of her most iconic movie roles entailed portraying Greek characters. But she also co-starred with Kirk Douglas in the 1968 crime drama "Brotherhood" and with James Cagney in the 1956 Western "Tribute to a Bad Man."
Her other film credits include works such as "Bouboulina" (1959), "Electra" (1962), the political thriller "Z" (1969), "Anne of the Thousand Days" (1969) and "Chronicle of a Death Foretold" (1987). In one of her final film roles in 2003, Papas appeared in Manoel de Oliveira's "A Talking Picture" alongside Catherine Deneuve and John Malkovich.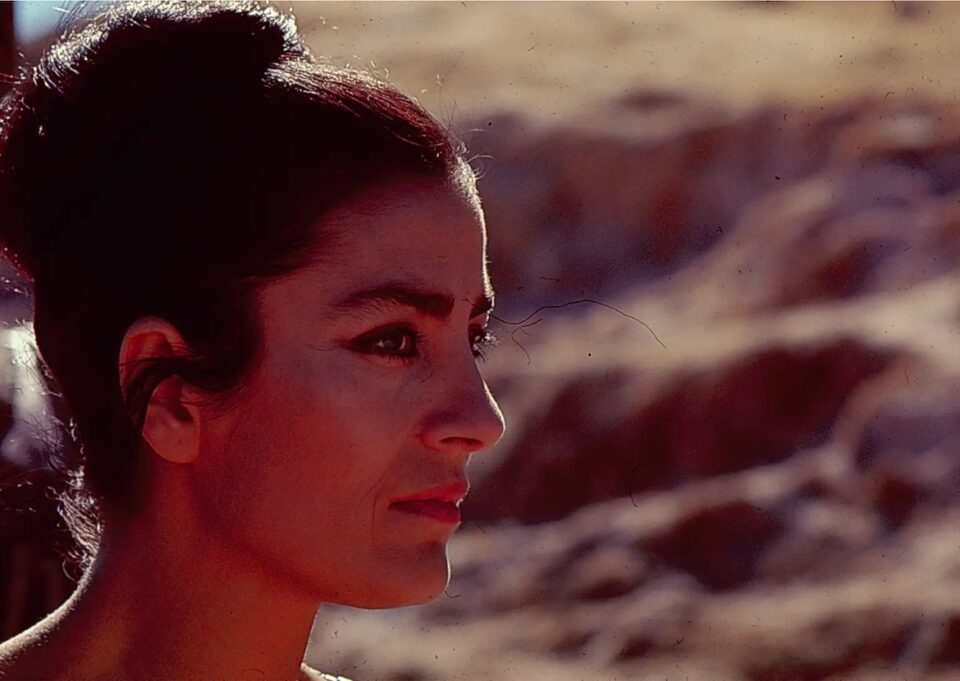 Papas' last name has been occasionally transliterated as Pappas. She was born Eirini Lelekou on September 3, 1926, in the village of Chiliomodi near Corinth, but mostly grew up in Athens as the daughter of two schoolteachers.
By the time she was a teenager, Papas had begun studying drama. She left home at 18 to marry Greek film director Alkis Papas despite her family's disapproval. They divorced four years later.
After Marlon Brando died in 2004, Papas told an Italian newspaper that the two had been romantically involved.
"I have never since loved a man as I loved Marlon," she told the Corriere della Sera. "He was the great passion of my life, absolutely the man I cared about the most and also the one I esteemed most, two things that generally are difficult to reconcile."
During the Greek military junta which took control of the country between 1967 and 1974, Papas was an avid supporter of the communist party and actively opposed the dictatorship. Due to her political beliefs — and similar to thousands of other Greek artists and intellectuals including Melina Mercouri — she lived a large part of her life abroad in Rome and New York City.
Some reports state Papas' age at the time of her death as 96. The actor often joked over the years that media outlets have listed her as being three years older. During a 2004 interview with Greek state TV, she said "I was born on September 3, 1929. All the papers are there in Chiliomodi."
Featured image: International News Photos/AFP Via Getty Images
---
Is The Pappas Post worth $5 a month for all of the content you read? On any given month, we publish dozens of articles that educate, inform, entertain, inspire and enrich thousands who read The Pappas Post. I'm asking those who frequent the site to chip in and help keep the quality of our content high — and free. Click here and start your monthly or annual support today. If you choose to pay (a) $5/month or more or (b) $50/year or more then you will be able to browse our site completely ad-free!

Click here if you would like to subscribe to The Pappas Post Weekly News Update