The history of Greeks in America is one with many interesting facts and stories — enough to fill volumes.
From the early immigrants who arrived penniless, to those who became great businessmen, to those seeking political fame, the trivia and tidbits of the accomplishments, trials and tribulations of Greeks in America are as diverse and interesting as the people who shaped them. Here are a few of our favorite stories we've dug up.
---
(1) The First Greek Orthodox Church in the United States
The first Greek Orthodox Church in the United States was established in 1864 in the port city of New Orleans, long frequented by Greek sailors and merchants. The original founders were mainly Greek cotton merchants, led by a man named Nicholas Benakis.
The pioneer church kept its minutes in English since it served a pan-Orthodox community of Slavs, Russians and Serbs. In 1906, when the Greeks ultimately took over the community, they imposed a Greek-only rule. From its founding, almost three decades would pass before another church was founded in the U.S.
(2) The Last Republican Mayor of San Francisco
George Christopher was the 34th Mayor of San Francisco, serving from January 1956 until January 1964. He was the last Republican to be elected mayor of San Francisco. Born George Christophis in a village outside Tripoli in Arcadia, Christopher and his family emigrated to the U.S. in 1910 and settled in San Francisco's South of Market Street neighborhood, then known as "Greektown", when Christopher was only two years old.
Before entering political life he founded a dairy called The Christopher Dairy and made a fortune. A misdemeanor conviction for a milk price-fixing scandal didn't prevent him from being elected first as San Francisco Board of Supervisors, and eventually mayor in 1955 and again in 1959. Christopher was known for his strong stand on civil rights resulting from childhood experiences of anti-Greek sentiment. He gained worldwide headlines offering his home to Willie Mays after it was reported that a realtor had refused to sell to Mays, an African American.
(3) The Sacred Battalions: Greek Americans Returning to Fight the Turks in the 1912
When the first Balkan Wars between Greece and Turkey erupted in 1912, thousands of Greek immigrants who had made America their home packed their belongings and returned to Greece to defend their homeland. An entire battalion was created from New York City's Greek population alone. The American media dubbed these patriotic Greeks the "Sacred Battalions" because they considered their mission to defend their homeland a sacred one.
(4) The Moving Story of St. Haralambos Church in Canton
Having outgrown their small church in its present location, the Greek Orthodox community of St. Haralambos in Canton, Ohio was split on the issue of leaving their old church and moving to a bigger plot of land the community had purchased.
A unique compromise plan was hatched up to carve the church in two parts and move it to the new land, adding an extension that would fit the growing community. It was the biggest move ever attempted in the city and all eyes were on the tiny church on June 16, 1958, now split in two and hoisted on wheels and steel beams.
It took 18 days to move the first half, but once they figured out "how to," it only took eight days to move the second half of the 41-year-old building. It took 10 months to complete the project: A 48-foot addition comfortably seating 500 parishioners, the foundation, the hall and kitchen — all completed by March 1, 1959.
(5) Postal Service Honors Greece
Did you know? In 1943 the U.S. Postal Service honored the nations overrun and occupied by the Nazis with a series of postage stamps and "first day covers" with pre-printed messages of support of the Greek nation and people. Greece was among the nations commemorated by the U.S. with a stamp.
(6) What's in a Name?
Nick Galifianakis was a U.S. Congressman from North Carolina who served the U.S. House of Representatives between 1967 and 1973. He was born in Durham to Greek immigrants Sophia Kastrinakis and Mike Galifianakis and entered politics after finishing Law School, serving in the Marines and teaching law at Duke University. During his tenure in the House, he decided to run for the U.S. Senate and beat the incumbent U.S. Senator B. Everett Jordan in the Democratic Party primary.
Galifianakis led his Republican challenger, former television commentator Jesse Helms, by a substantial margin for most of the campaign, until Helms' campaign got dirty and targeted Galifianakis' Greek heritage. With the late-campaign slogan, "Jesse Helms: He's One of Us," an implicit provocation suggesting his opponent's Greek heritage made him somehow less "American," the Helms campaign poked fun at Galifinakis' campaign pins that were created in sets of two since his whole name couldn't fit on a single pin.
But in a South that was only beginning to break away from Jim Crow and segregated schools, Galifianakis' long last name and ethnic heritage stood out as relatively exotic. He brushed off any such concerns, joking to reporters that his name is easy to remember: "It starts with a 'Gal' and ends with a kiss." He would soon find out the politics of race and identity in the South did not always work so smoothly. Helms pulled away and defeated Galifianakis by eight points to become U.S. Senator.
(7) "How can I vote for a candidate when I can't pronounce his name?"
Speaking of Greek names and politics, country singer Loretta Lynn famously thrust herself into politics when she poked fun at presidential candidate Michael Dukakis' name and, effectively, his ethnic heritage. During campaign stops in Illinois in 1988 with Vice President George Bush, she laughed off Dukakis' candidacy telling crowds "How can I vote for a candidate when I can't pronounce his name?"
It was an obvious implication that Dukakis wasn't enough of an American and that people shouldn't vote for candidates with "foreign sounding" names. The burst of nativism, a long-time staple of American politics, wasn't lost on a crowd at a Dukakis rally three days later in an ethnic neighborhood of New Haven, Connecticut, where hundreds of Italian, Greek and other hyphenated Americans cheered on their candidate — and had taken the trouble to create a huge poster articulating their offense with Ms. Lynn's comments.
"Loretta Lynn, We Don't Think It's Funny What You Can't Pronounce. Army Cemeteries Are Full of Gravestones With Names You Can't Pronounce. Those Boys Wouldn't Laugh at Your Joke and THEY ARE AMERICANS TOO!"
(8) Front page news: "The Greeks are of a very jealous disposition and believe all women are faithless"
A front page story in The Chicago Sunday Tribune on August 24, 1890 featured how bananas — exotic fruit of the time — made their way from the southern ports of New Orleans all the way to Chicago. The story carried a disparaging mention of Greek peddlers, calling them "of a very jealous disposition" and "filthy, shrewd, and of a low order intellectually."
The full article in the Tribune's archives is here.
The Tribune said of the Greek peddlers:
It is popularly believed that the banana peddlers of Chicago and other cities are Italians. This supposition is not true, however. Nearly every banana peddler in this city is a Greek. They herd together by the dozen, and have a head man who does all the buying, and usually drives a close bargain for a few banana bunches. The Greeks are of a very jealous disposition and believe all women are faithless. So they never marry in this country. They are filthy, shrewd, and of a low order intellectually. The profits of the day's peddling are always divided equally among the company, and in this way they may be said to operate a small sized banana trust.

They are born traders and carry on a profitable business, considering their daily living expenses do not average more than 10 cents a day. Neither the Greeks nor Italians who have a monopoly of the banana peddling and street-corner trade, know what the fruit is until they receive enlightenment from experience in this country. A newly imported Italian who was about to embark in the fruit-vending business stepped outside a South Water street house the other day, and, pointing to a bunch of bananas, wanted to know how much "Italian pickles" were. Italians do not like bananas to eat, and the Greeks have a dislike to the fruit except when compelled to eat their own stock in trade to fill a vacant stomach.

The Chicago Tribune, August 24, 1890
(9) It's all Greek… in Astoria
The American Community Survey is a massive annual effort by the U.S. Census Bureau to measure various aspects of American life, including language (other than English) spoken at home. An interesting map with findings from the statistics shows how prevalent the Greek language is in Astoria, a neighborhood in New York City.
Because Spanish shows up in so many New York neighborhoods (including Astoria) as the predominant second language, the map shows the most common non-English, non-Spanish language in each New York City neighborhood.
---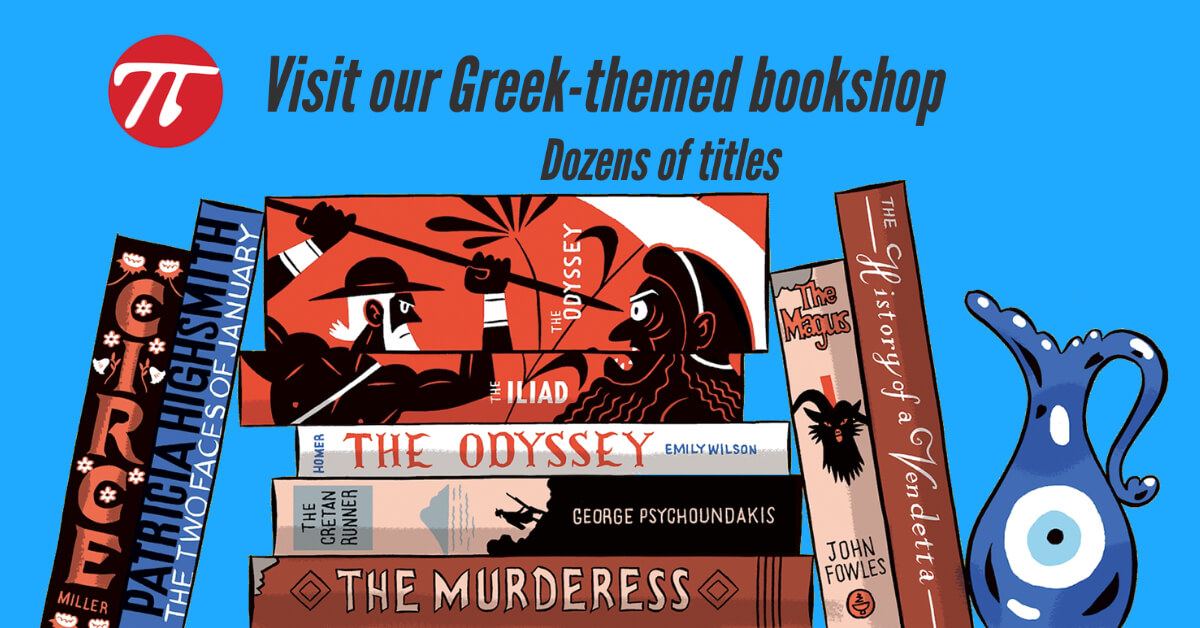 ---
---
Is The Pappas Post worth $5 a month for all of the content you read? On any given month, we publish dozens of articles that educate, inform, entertain, inspire and enrich thousands who read The Pappas Post. I'm asking those who frequent the site to chip in and help keep the quality of our content high — and free. Click here and start your monthly or annual support today. If you choose to pay (a) $5/month or more or (b) $50/year or more then you will be able to browse our site completely ad-free!

Click here if you would like to subscribe to The Pappas Post Weekly News Update