It was one of the best performances— not only of the year, but perhaps in contemporary global politics. And the top award goes to none other than Recep Tayyip Erdoğan, the Sultan of Turkey who staged a coup that was so obviously rigged to fail from the start— just so he could stage his own coup— with the entire world watching.
The events that unfolded in Istanbul and Ankara last week are laughable even to the casual observer of Turkey's politics and specifically, the antics of Sultan Erdogan and his disgusting lust for absolute power.
Why I'm implying Erdogan staged the coup? The facts speak for themselves:
Johannes Hahn, EU Commissioner in charge of European Neighborhood Policy and Enlargement Negotiations stated shortly after the coup that Turley already had lists of people on supposed target lists— people who were opposed to Erdogan's policies in the judicial system, the military and more worrisome, the education system.
"The lists are available already after the event, this indicates that this was prepared to be used at a certain stage," Hahn said at a meeting of EU ministers.
TURKEY PURGE

– 3,000 judges
– 8,000 police officers
– 3,500 soldiers
– 120 generals and admirals
– 492 clerics
– 257 in PM's office

— The Spectator Index (@spectatorindex) July 19, 2016
***
Many on Twitter are updating the "purged" lists regularly and the numbers are startling.
Made a list to keep track of #TurkeyPurge.#Turkey #Erdogan pic.twitter.com/1IEBlrFOX0

— Ashish Jena (@ashishjena94) July 19, 2016
***
Why didn't the "rebel" military that was in the middle of a coup to topple Erdogan intercept— or even attack— his airplane when they had it locked on their radars?
At the height of the attempt to overthrow Erdogan, the pilots of two F-16 fighter jets had Erdogan's plane in their sights. And yet he was able to fly on.
"At least two F-16s harassed Erdogan's plane while it was in the air and en route to Istanbul. They locked their radars on his plane and on two other F-16s protecting him," a former military officer with knowledge of the events told Reuters.
"Why they didn't fire is a mystery," he said.
A senior Turkish official confirmed to Reuters that Erdogan's business jet had been harassed while flying from the airport that serves Marmaris by two F-16s commandeered by the coup plotters but that he had managed to reach Istanbul safely.
A second senior official also said the presidential jet had been "in trouble in the air" but gave no details.
***
Ironic also that "rebel" soldiers descended on the hotel where Erdogan was staying in the resort town of Marmaris— just moments after he and his entourage left.
About 25 soldiers in helicopters descended on a hotel on ropes, shooting, just after Erdogan had left in an "apparent attempt" to seize him, CNN Turk said in dramatic fashion.
Ironically, Turkish Prime Minister Binali Yildirim had also been directly targeted in Istanbul during the coup narrowly escaped, the official said, without giving details.
***
Journalists, observers inside Turkey and abroad speculate the same thing.
Many people began speculating immediately after the "coup" was quelled that it was staged by Erdogan himself to give him an opportunity to purge the military, the judiciary and the education departments of opponents and increase his grip on Turkey.
Ryan Heath, the senior EU correspondent at Politico, used Twitter to share comments from his "Turkish source", who called the events of Friday night a "fake coup" which would help a "fake democracy warrior" [Erdogan].
My Turkish source says this looks more like theatre than coup. Long interesting view here #Turkey #TurkeyCoup pic.twitter.com/lJnF4bULTv

— Ryan Heath (@PoliticoRyan) July 16, 2016
The source said: "Probably we'll see an early election [in] which he'll try to guarantee an unbelievable majority of the votes. And this will probably guarantee another 10-15 years of authoritarian, elected dictatorship.
"We'll possibly see a change in the constitution for worse, which secularism will be gone and Islamist motifs will be in!"
Using the hashtag #TheatreNotCoup, a Twitter user calling himself Subsidiarity Man wrote: "Two words: Reichstag fire. The year was 1933 and you know what happened next," a reference to an arson attack that many believe was planned by the Nazis in pre-World War II Germany to undertake a government campaign to suspend civil liberties in the name of protection of the state.
Two words: Reichstag fire. The year was 1933 and you know what happened next… https://t.co/uUZt24JZrW

— ⚡️Subsidiarity Man⚡️ (@SubsidiarityMan) July 16, 2016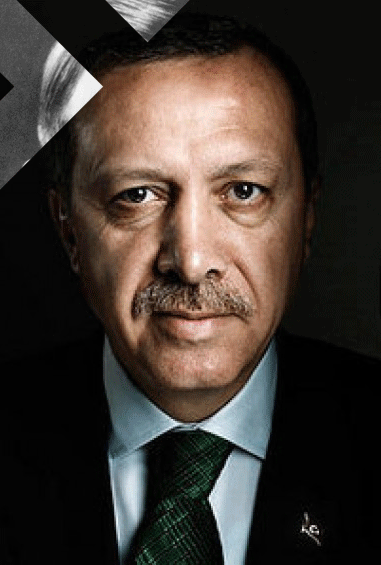 The numerous references to Hitler and Nazi Germany began appearing almost immediately on social media.
Cengiz Candar, a veteran writer and journalist who has studied coup attempts in the past and has written seven books was flabbergasted with the sloppiness of the coup, calling it an elaborate hoax by Erdogan in his column in Al-monitor.com.
"More surprising for me is the amateurishness of the attempted coup on the night of July 15. As a veteran observer of military coups and coup attempts in Turkey, I have never seen any with this magnitude of such inexplicable sloppiness," Candar wrote.
Fethullah Gülen, the reclusive cleric blamed by Erdoğan for the failed coup in Turkey, also suggested in a Guardian interview that the uprising by members of the country's military could certainly have been "staged" by the government.
Gülen rejected all accusations that he was behind the coup attempt and left open the possibility that Erdogan initiated it.
"I don't believe that the world believes the accusations made by President Erdoğan," Gülen said. "There is a possibility that it could be a staged coup and it could be meant for further accusations [against Gülen and his followers]."