X Prize Foundation founder Peter Diamandis announced today, what he called his boldest initiative yet. And considering the fact that his last big initiative opened up space travel for non-astronaut humans— it's safe to assume big things.
The newly launched Global Learning X Prize will award a team $15 million dollars for developing an open source software that can teach a child basic reading, writing, and arithmetic in just 18 months without the aid of a teacher.
According to Diamandis, there are nearly a billion illiterate people on Earth— two thirds of whom are women and approximately a quarter of a billion are children. Through his X Prize Foundation, which has already raised the $15 million prize money that will be awarded, he hopes to change that.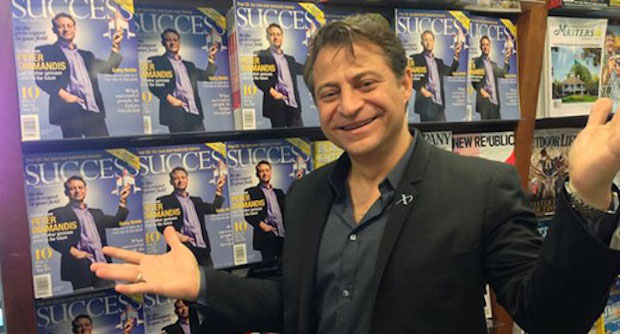 "To meet the demand of 250 million illiterate children would require training over 1.6 million new teachers by 2015," Diamandis said in an email to supporters, adding that "there is NO WAY to teach enough teachers and build enough schools. The old way just doesn't scale. It's time to stop thinking linearly…"
Ideally, says Diamandis, the winner will develop a software system that is artificially intelligent, so it can better understand how students learn and what their interests are, in order to keep them engaged in there education.
Naysayers should do their research on Diamandis before adding their two cents. If anyone can accomplish such a feat— it's the first generation Greek American who became a medical doctor after graduating Harvard med school just to satisfy his parents— then obtained his PhD from MIT, to satisfy his own thirst for knowledge.
In 2004 his foundation launched a prize, known as the Ansari X Prize, which challenged teams to create their own private spacecraft. Diamandis is credited with kickstarting what has now become a mature spaceflight industry.
Diamandis is definitely onto something.
"This 200-year-old industrial age educational system that we all grew up in, in which we all sit in a classroom, the bell rings, and like cogs in a wheel, we change classrooms? Inevitably, half the students are lost and the other half bored, Diamandis said in an interview at the Social Good Summit in New York City where the prize was announced today.
The foundation will test the entrants' technologies on children throughout Africa and is now raising money through a crowd funding campaign to expand the testing from 5,000 to 10,000 kids and ensure the competition reaches the maximum possible audience globally.