Living a world away from Greece, or even being many generations removed, doesn't mean you have to lose Greek traditions or not share them or pass them on to the next generation. There are so many ways to bring a touch of Greece into your homes during the holiday season.
(1) Bake cookies… But only Melomakarona and Kourambiedes!
Plain and simple, your Christmas and New Year dessert table isn't Greek unless these two cookies appear on it. They are the "national Christmas and New Year's holiday cookies" of Greece… Kourambiedes and Melomakarona (below).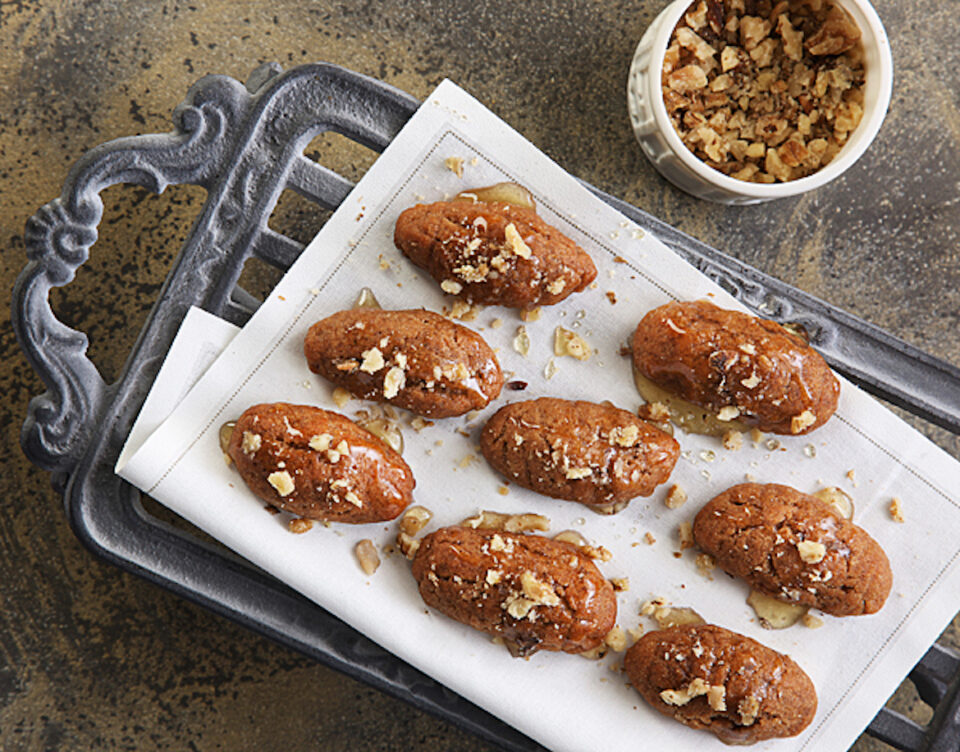 Check out Calliope's mastiha-infused kourambiedes for something different from the traditional kind.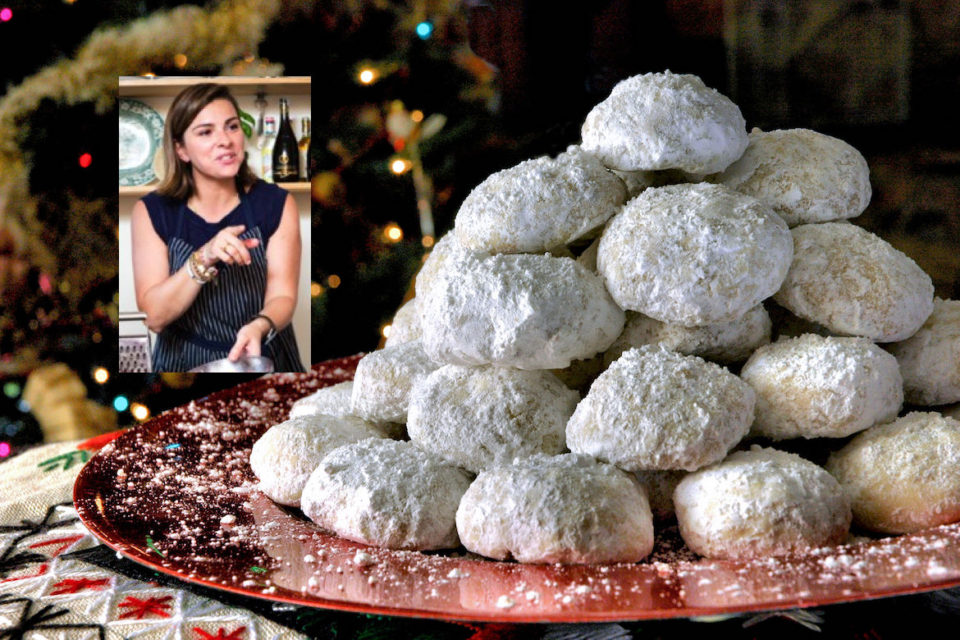 (2) Smash a Pomegranate
Greeks like to smash a pomegranate on the floor in front of the door when the new year turns. The seeds that scatter represent prosperity. The more seeds a pomegranate contains, the more luck the year will bring.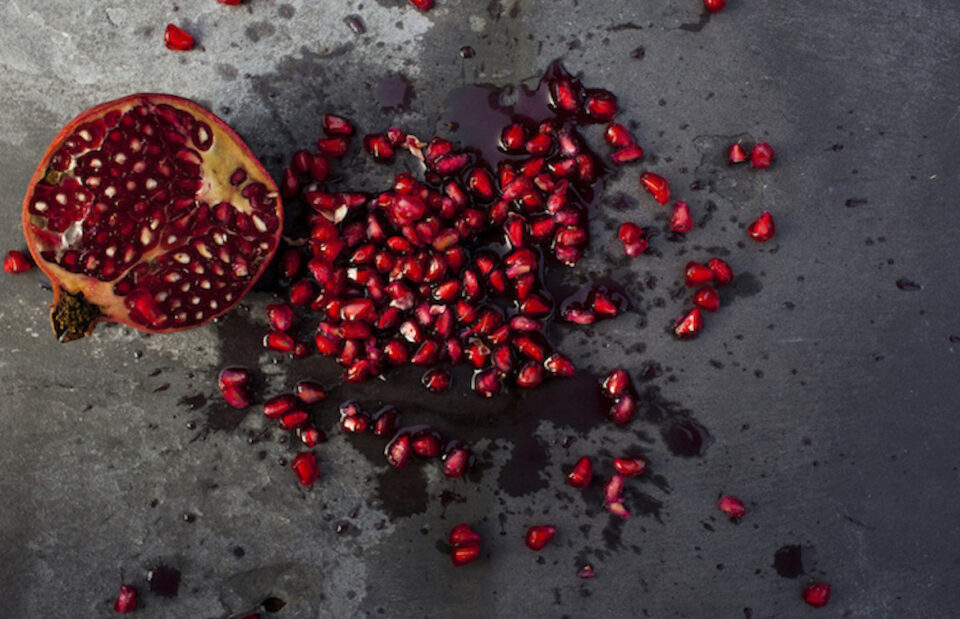 And by the way, you don't have to let those pomegranate seeds go to waste. Check out this interesting brioche bread roll recipe that turns regular bread into a talking point at your table.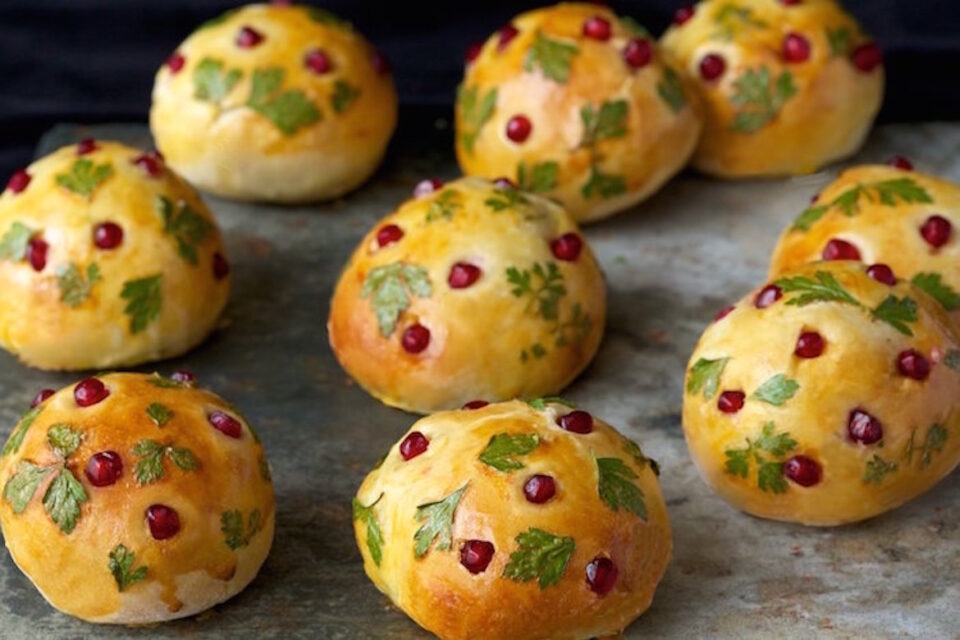 (3) Celebrate St. Basil… Not Santa
Not to rain on your children's parade or anything, but the tradition of gift-giving in Greece actually takes place on New Year's Day, or the feast of St. Basil, who brings the gifts.
Although you might get some resistance from your little ones when you tell them they have to wait a week to get their gifts, it does make for a "real" holiday story about a "real" man who walked the earth and did a whole lot of good. St. Basil of Caesarea was a Greek bishop who was well-known for his care of the poor and underprivileged.
(4) Decorate a Boat
Lighted boats are everywhere around the holidays — in town squares, in homes and hanging on doors. Greece being a nautical nation, it's no wonder its people celebrate with boats, usually bringing them out around the feast day of St. Nicholas — the patron saint of seafarers — and displaying them until well after the new year.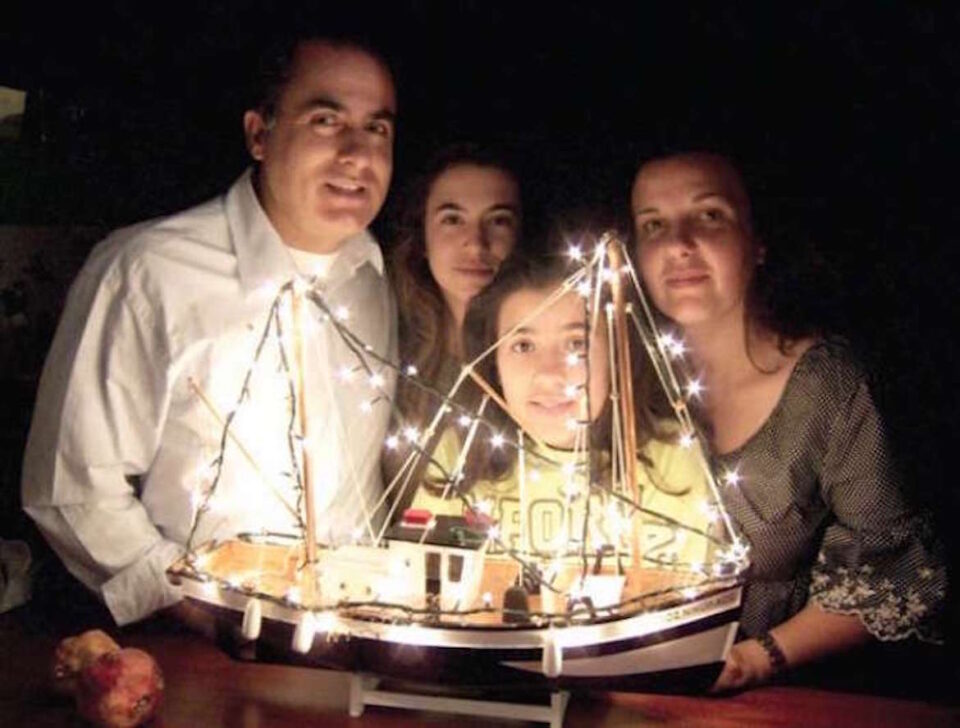 As told in Michael Sweet's story about the Strigas family from Athens, "The boat at Christmas is an old tradition in Greece. It comes from our attachment to the sea, and signifies a new beginning on life's journey and a journey with Christ."
You can get numerous boat decorations — even on Amazon, like this one here.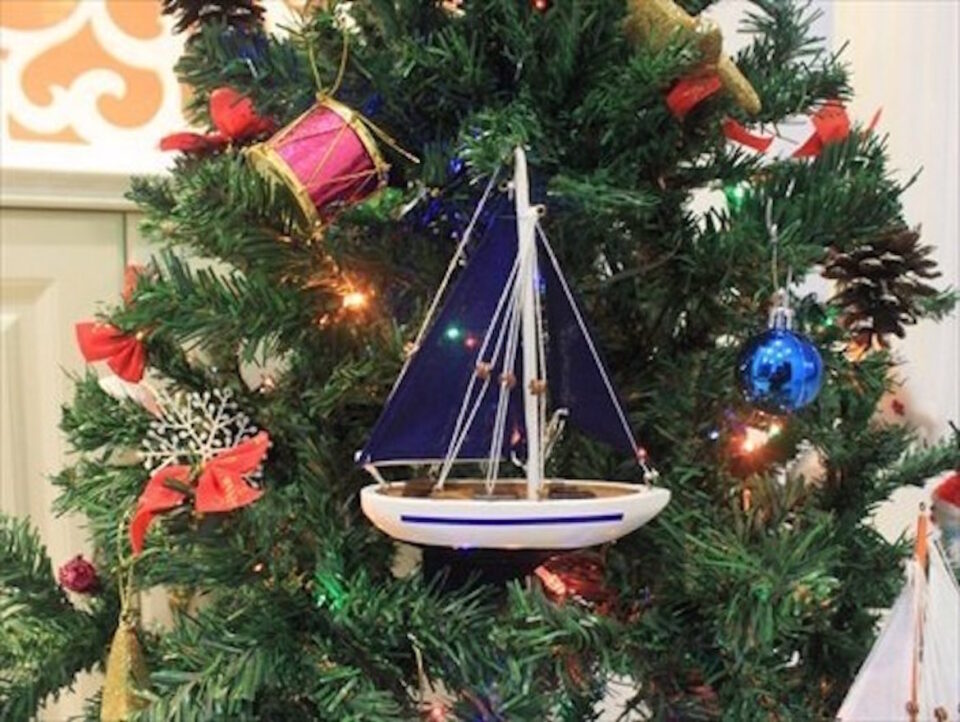 (5) Enter your home right!
In various parts of Greece, they enter their home με το δεξί (with the right leg first) after returning from New Year's Eve celebrations. Even if you don't go anywhere, some exit their front door and enter with the right leg first right after the new year changes.
In many villages, the family icon is taken outside before the changing of the new year and it is carried into the house (again with the right leg entering first) so that the house can be blessed throughout the year.
(6) Bake "Christopsomo" (Christ's Bread) on Christmas and Vasilopita on New Year's Day (Don't forget the coin!)
A lesser-known cousin to its more well-known Vasilopita, baked on New Year's Day, people in many parts of Greece bake a special bread in honor of Christ's birth called — what else — "Christopsomo," or "Christ's bread."
Kenton and Jane Kotsiris on their Greek food blog "Lemon and Olives" explain the tradition of Christopsomo, offer a great recipe and also give some alternative recipes and tasting options.
On New Year's Day, Greeks cut Vasilopita, or "St. Basil's Bread," always baked with a coin inside. The family member to get the coin in his/her piece of cake will have luck during the new year.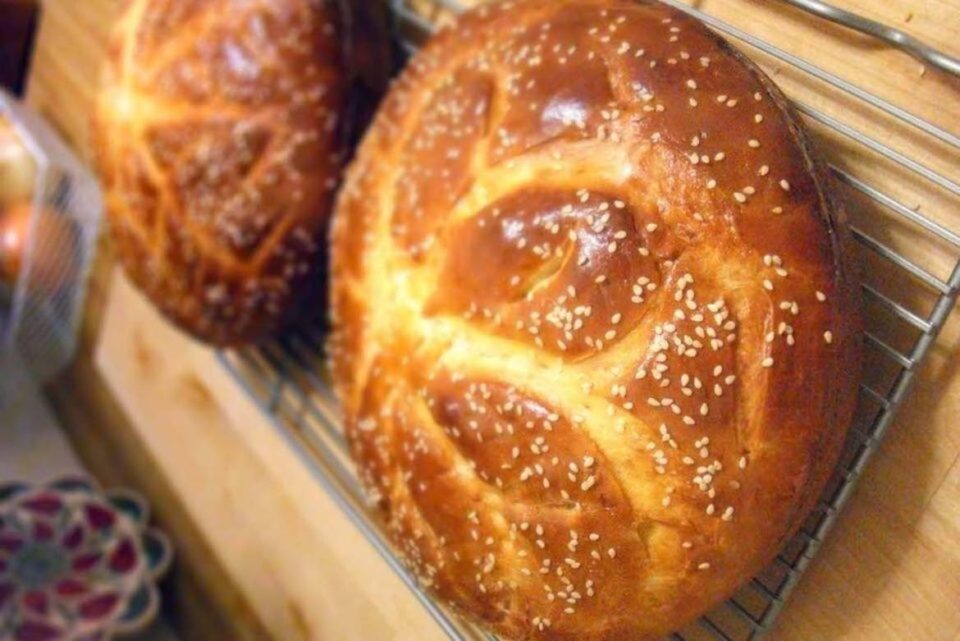 Vasilopita comes in different shapes and sizes, depending upon the region of Greece. The two most common are the bread version (above), and the moist cake version (below).
(7) Sing Kalanda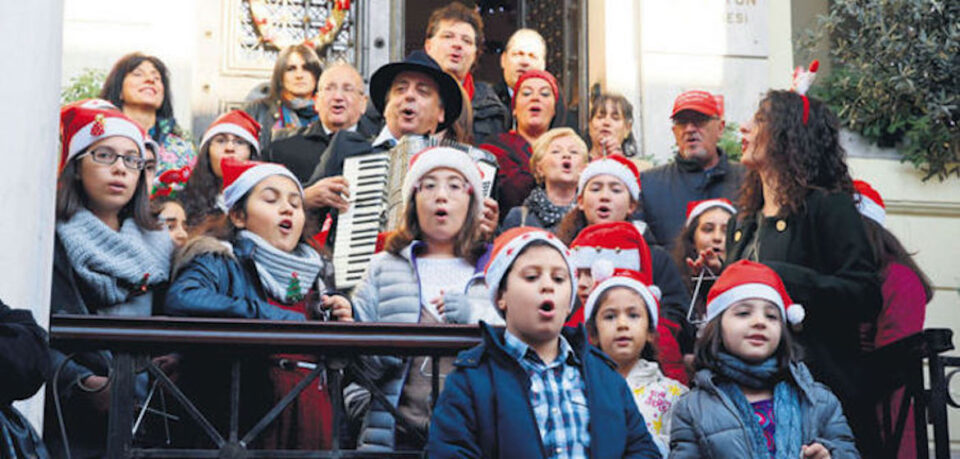 Tradition has it that kids organize themselves in groups and go from door to door to sing "kalanda" in villages throughout Greece, often receiving money, a cookie or fruit in exchange.
There are numerous variations from region to region, but the lyrics usually proclaim the same thing — the birth of Jesus, the coming of St. Basil and the blessing of the waters.
Download sheet music here for Christmas, New Year's and even Epiphany Kalanda.
---

Click to shop the Olive Grove Market
---
---
Is The Pappas Post worth $5 a month for all of the content you read? On any given month, we publish dozens of articles that educate, inform, entertain, inspire and enrich thousands who read The Pappas Post. I'm asking those who frequent the site to chip in and help keep the quality of our content high — and free. Click here and start your monthly or annual support today. If you choose to pay (a) $5/month or more or (b) $50/year or more then you will be able to browse our site completely ad-free!

Click here if you would like to subscribe to The Pappas Post Weekly News Update