"Let food be thy medicine" – Hippocrates
In ancient Greece, Hippocrates used olive oil as medicine to treat more than 60 ailments. 
Today, science helps us understand what Hippocrates and the Greeks have known to be true for thousands of years. 
Although extra virgin olive oil (EVOO) isn't considered a medicine, it's abundant in health benefits that you don't get in other foods – it's almost like a superfood. That's because it contains powerful antioxidants called polyphenols.
Let's review why extra virgin olive oil is so special, what polyphenols do, and how to incorporate EVOO into your diet today.
The difference between extra virgin olive oil (EVOO) vs. regular?
For best taste and health results, choose extra virgin olive oil whenever possible. There are some key reasons why you should consider EVOO over regular olive oil:
It's less processed. The best EVOOs are natural and should consist of crushed olives, not additives! When treated with chemicals and heat, olive oil can lose some of its nutrients and flavor.
It simply tastes better. Unprocessed EVOO should be flavorful, slightly bitter, and peppery. The bitter taste comes from polyphenol content.
It has higher phenolic content, which are nutrients that support higher antioxidant activity. Refined olive oil contains ~0.5mg/kg of polyphenol content, whereas virgin olive oil typically contains up to ~150-400mg/kg. [1]
Early harvest EVOOs, known as agoureleo in Greek, are made from unripe olives. These EVOOs are especially known to have higher levels of polyphenols (over 600mg/kg of total polyphenols) due to the higher number of olives that are needed to prepare a batch! 
Now, let's talk about polyphenols and their powerful and positive effects on health.
Powerful polyphenols in extra virgin olive oil
Polyphenols are compounds found in plants, including fruits, vegetables, plants, herbs, tea, and red wine. There are more than 8,000 different polyphenolic structures known to us today!
The powerful phenolic compounds in extra virgin olive oil include oleuropein, tyrosol, hydroxytyrosol, and flavonoids. 
There are many roles these polyphenols play in the body, according to science:
They reduce your risk for death and slow down the progression of chronic neurodegenerative and cardiovascular disease. [1] (Additionally, the healthy fats found in olive oil can help lower your blood pressure and cholesterol.)
They stop the spread of cancer cells and reduce the risk of developing cancer. [1] Perhaps not surprisingly, people living in Greece and the surrounding Mediterranean area generally have lower rates of cancer.
Hydroxytyrosol can potentially help reduce the risk for type 2 diabetes through various mechanisms. [3]
Most of the existing studies have been done in lab models where olive oil extract was isolated. To confirm their health effects, more human studies with EVOOs are needed. 
How to enjoy extra virgin olive oil
Incorporating at least 2-3 tablespoons of EVOO every day is recommended to reap the health benefits of powerful polyphenols.
Try using extra virgin olive oil to cook poultry, fish, seafood, and vegetables. You can also dip bread and pitas in EVOOs.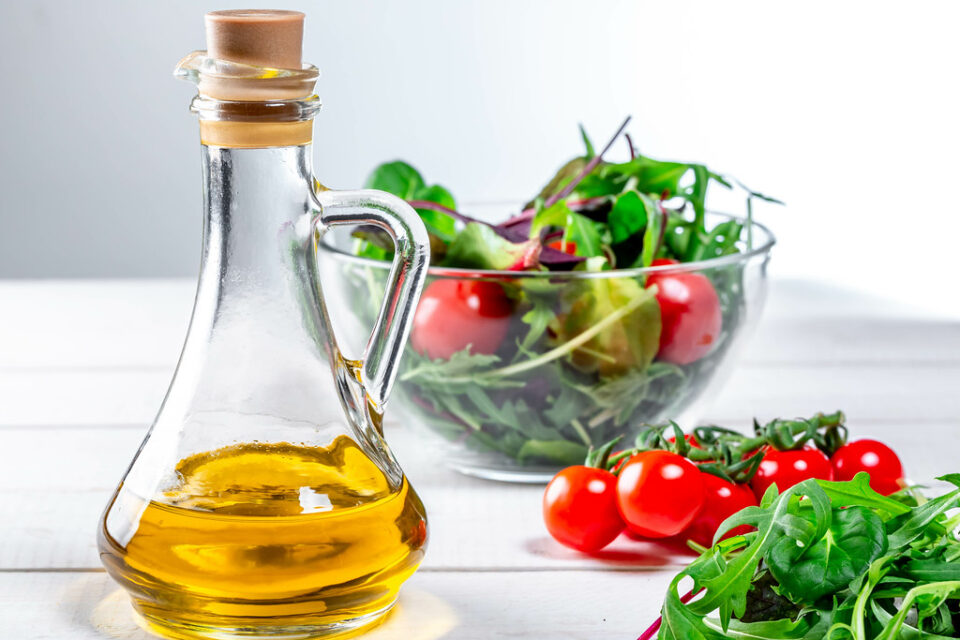 The bottom line
Extra virgin olive oil's big secret is polyphenols, which are powerful antioxidants with abundant health benefits. EVOOs are higher in polyphenols and taste better in comparison to regular olive oil. For best health results, incorporate at least 2-3 tablespoons of EVOO into your diet.
Some of the best Greek olive oils — including high-phenolic EVOOs — are available for purchase from Olive Grove Market.
---

Click to shop at olivegrovemarket.com
---
References
Gorzynik-Debicka M, Przychodzen P, Cappello F, Kuban-Jankowska A, Marino Gammazza A, Knap N, Wozniak M, Gorska-Ponikowska M. Potential Health Benefits of Olive Oil and Plant Polyphenols. Int J Mol Sci. 2018 Feb 28;19(3):686. doi: 10.3390/ijms19030686. 
John CM, Sandrasaigaran P, Tong CK, Adam A, Ramasamy R. Immunomodulatory activity of polyphenols derived from Cassia auriculata flowers in aged rats. Cell Immunol. 2011;271(2):474-9. doi: 10.1016/j.cellimm.2011.08.017. Epub 2011 Aug 28. 
---
About the author
Chrissy Arsenault, MBA, RDN, LD, is a registered dietitian nutritionist and licensed dietitian based in Indianapolis. She obtained her bachelor of science in nutritional science at Cornell University and her MBA at Indiana University Kelley School of Business. She is the founder and CEO of a nutrition communications firm called Pink Pamplemousse LLC, where she creates engaging nutrition and wellness content for clients. She has also coached clients on various health conditions including heart disease, obesity, digestive issues and diabetes over the last seven years. Visit Chrissy's website.
---
Is The Pappas Post worth $5 a month for all of the content you read? On any given month, we publish dozens of articles that educate, inform, entertain, inspire and enrich thousands who read The Pappas Post. I'm asking those who frequent the site to chip in and help keep the quality of our content high — and free. Click here and start your monthly or annual support today. If you choose to pay (a) $5/month or more or (b) $50/year or more then you will be able to browse our site completely ad-free!

Click here if you would like to subscribe to The Pappas Post Weekly News Update