This article is part of our Greek American History Preservation Project in collaboration with the Greek America Foundation. We need your help! Support the Greek American History Preservation Project as we seek to record important moments in our community's history. There are vast archives waiting to be tapped and brought to the public's attention on our digital platform. Support our work today to keep our history alive for future generations. The Greek American History Preservation Project by The Pappas Post and the Greek America Foundation aims to digitize and share unique stories of Greek America and make them accessible to casual readers and researchers alike. Donations support research from various American archives, writing, as well as rights usage rights to allow newspaper articles, photographs and footage to be published online on our platform. Use this link to make a recurring or one time donation to support our efforts.
---
---
It was the "Golden Era" of Hollywood when celebrities like Clark Gable and Carole Lombard occupied tabloid headlines and films like Disney's Fantasia and Gone With the Wind captivated the nation.
Shirley Temple, Judy Garland, Bob Hope and Bette Davis were household names in the United States and beloved by millions.
And simultaneously, World War II was raging in Europe.
Fed constantly by headlines and an occasional newsreel coming from Europe, Americans had become captivated by the courageous and valiant efforts of the people of Greece who fought and pushed back Mussolini's forces, and were eventually overrun — but not without a fight — by the Nazi Germans.
"The Amazing Greeks Win Freedom's First Victory" read one headline in Life Magazine, while magazines and newspapers read by millions praised the modern Greeks as suitable ancestors of their ancient warrior relatives of Classical Thermopylae and Sparta.
As a result of the Nazi occupation and subsequent naval blockade, famine and despair would overcome Greece both in Athens and throughout the countryside.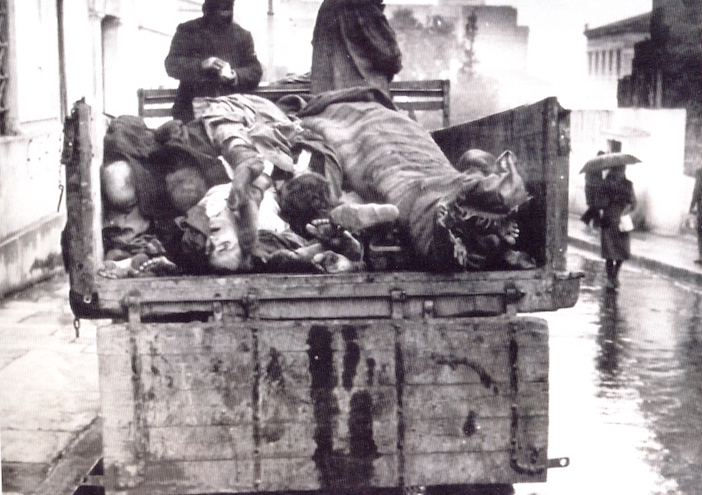 In response to the turmoil in Greece, Americans began countrywide efforts to provide humanitarian relief for the Greek people.
Railroad magnate Harold Vanderbilt and film industry executive Spyros Skouras launched an effort called the Greek War Relief Association no less than 10 days after the October 1940 Italian invasion of Greece to provide food and other forms of aid to Greece.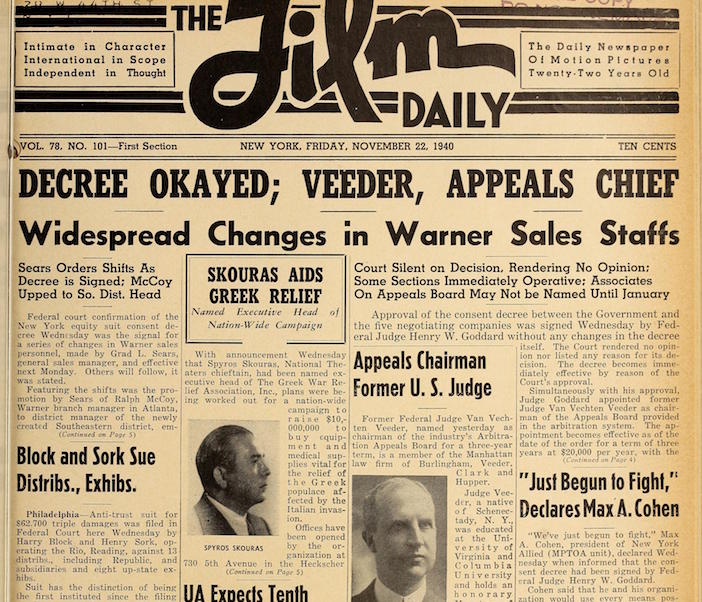 Never in American history has there been such a unified and massive campaign to support a foreign charitable cause than the support for Greece during WWII.
The nationwide effort was bolstered by businessmen, community leaders and a massive Greek American grassroots network led by AHEPA and the Greek Orthodox Church. Politicians, primary school students, businesses — and the Motion Picture Industry — also contributed in a major way.
In Hollywood, countless stars, celebrities, studio heads and industry heavyweights got behind the Greek War Relief movement, making it the single largest humanitarian fundraising campaign in American entertainment industry history, including a single organized fundraising campaign by the Motion Picture Association of America involving 8,000 cinemas.
Films like Walt Disney's Fantasia and Gone With the Wind held gala premieres and opening nights in cities across the nation with ticket proceeds benefiting the Greek War Relief campaign.
Major telethons and fundraising events also took place in New York, Los Angeles and throughout the country that brought together practically every major A-list Hollywood star at the time.
At Grauman's Chinese Theater in Los Angeles on February 8, 1941 — while Greek forces were pushing back the Italians in the Albanian mountains — massive radio telethon called America Calling was broadcast on CBS, NBC, numerous independent stations and throughout Europe.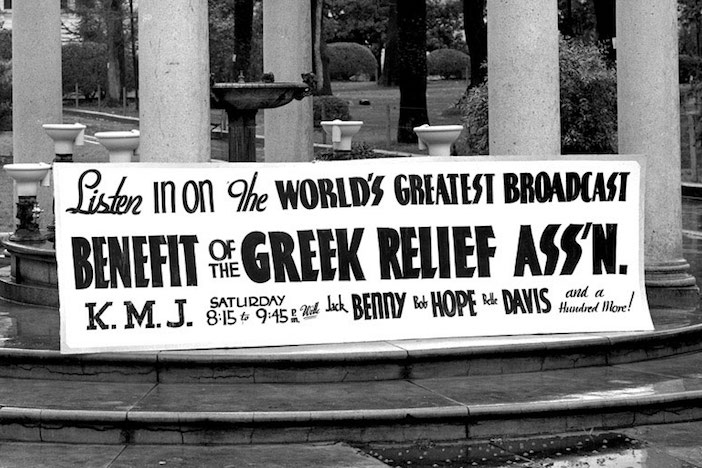 The event sought to send a loud message to the fighting Greeks — the people of the U.S. are here, ready and willing to help.
Jack Benny and Bob Hope were the "co-masters of ceremonies" of the variety show that featured some the biggest names of the time including The Merry Macs, Shirley Temple, Charles Laughton, Groucho Marx and Clark Gable.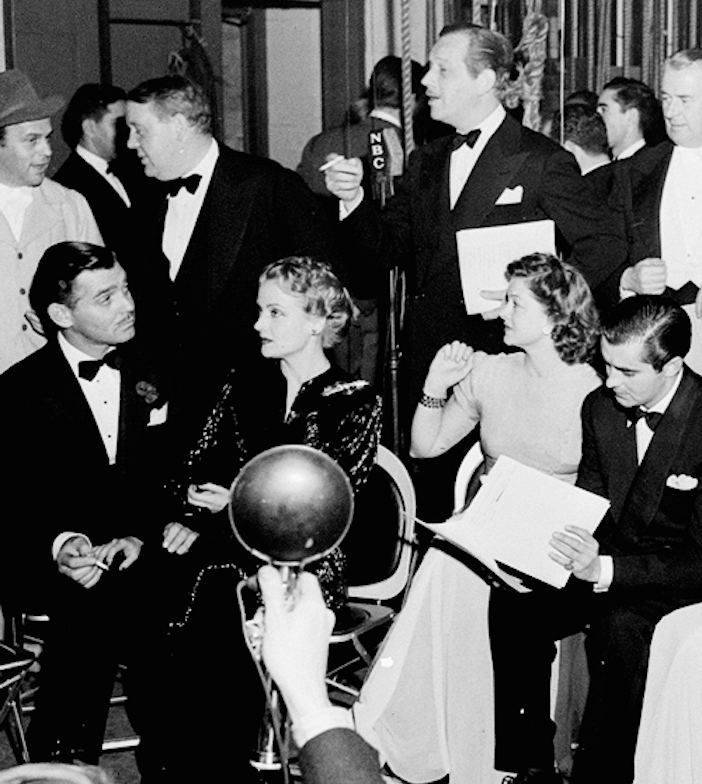 A month later, on March 28, 1941, stars gathered at Radio City Music Hall for a gala variety show called "Greek Festival for Freedom" starring Judy Garland, Irving Berlin, Ed Sullivan, the Andrews Sisters, the Rockettes, Danny Kaye and practically every major New York-based star of the era.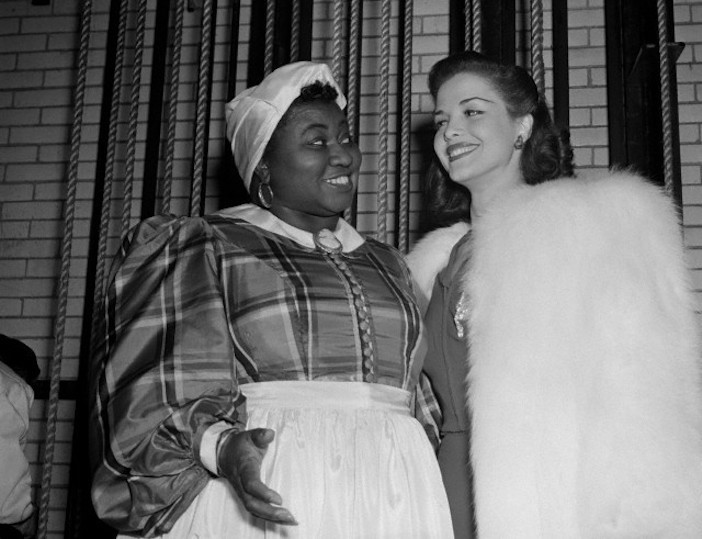 A letter in Film Daily published by Samuel Goldwyn thanked the Motion Picture Industry for coming through with flying colors during a campaign supporting "thousands of women and children in Greece, whose men are defending democracy and will benefit through our industry's cooperation."
Goldwyn thanked cinemas throughout the nation and announced that $1,014,450.52 was raised over a period of nine months by film studios from more than 8,000 cinemas throughout the nation.
Paramount Pictures founder Adolph Zukor — one of the film industry's most influential figures — also wrote in praise of the industry.
"We have collected $850,000, this money was in addition to that raised on the West Coast by a committee headed by Sam Goldwyn. I am confident that our industry raised directly more than $1,000,000 for Greek Relief. We have already wired $500,000 from our division to Athens where it was used to purchase food, clothing and medical supplies so badly needed by the women and children of the gallant little country. I am proud to be a part of an industry that has responded so handsomely in a crisis like this."

Adolph Zukor
According to Zukor's archives, money raised by the motion picture industry, according to Zukor's archives "was used to buy medicine, clothing and food for the helpless women and children of that country. A great deal of the money was also used in the evacuation of more than a million women and children before the Axis powers arrived."
"More than 8,000 theaters participated in the drive," Zukor continued. "This was the largest number of theaters ever enrolled for a charity drive in our industry, and the amount collected far exceeds that of any similar cause in our industry."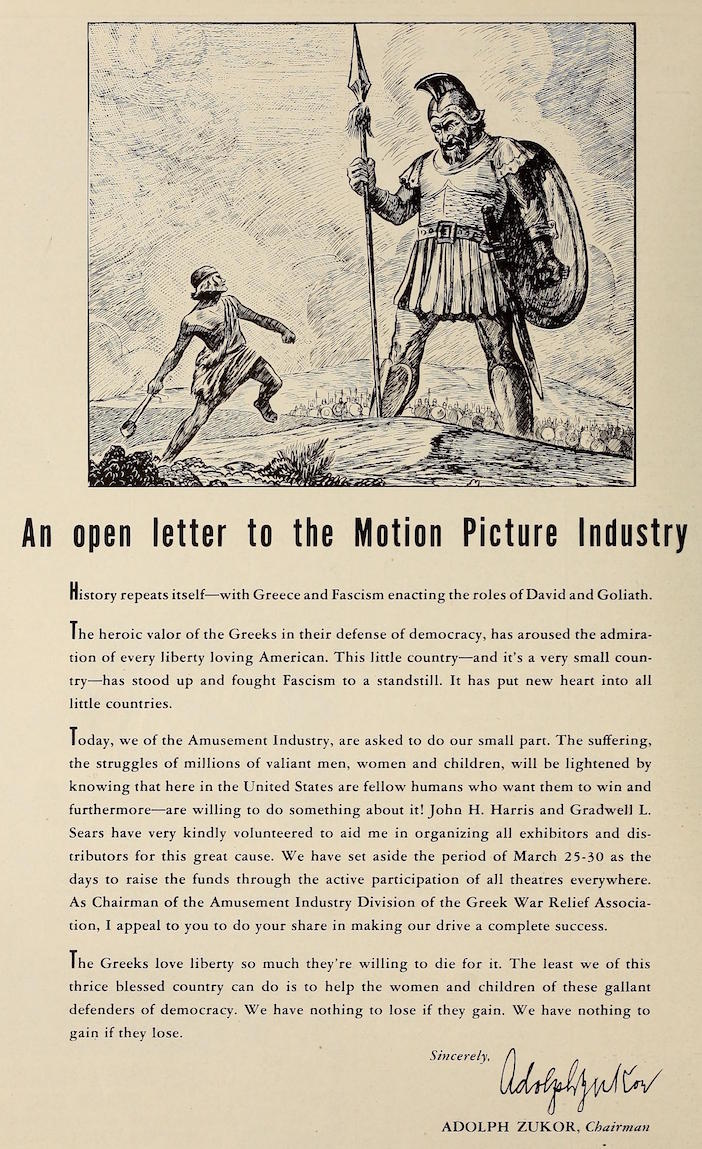 When all was said and done, the Greek War Relief Association raised $30 million — approximately $500 million today — to provide massive shipments of grain, equipment, livestock and other forms of material support for the Greek people.
Hollywood's role stood out as the catalyst to engage and involve "average" star-struck Americans who watched their favorite celebrities attending fundraising galas, participating in radio telethons and lending their names to the Greek War Relief and ultimately leading them to donate $1, $5– whatever Americans could muster up at the time.
Did You Know?
Olympia Dukakis, a teenage girl from Lowell, Massachusetts, made her stage debut in a play that raised funds for Greek War Relief. Decades later, Dukakis would go on to win an Oscar and become one of America's most beloved actors.
---
Walter Winchell, the era's most listened-to radio gossip columnist, was a huge supporter of Greek relief efforts who donated his own money and encouraged millions of listeners to support Greece.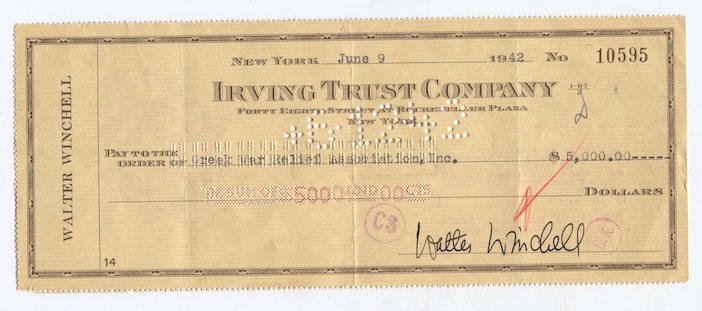 ---
A young Italian-American singer named Frank Sinatra's first-ever concert at Madison Square Garden on May 18, 1943 was a benefit concert for the Greek War Relief Association.
---
At a benefit in Chicago, Jack Benny auctioned off his violin at an event that netted more than $20,000 for the cause.
---
Dozens of actors who were employed as salaried employees under the "studio system" of the 1940s pledged a percentage of their salaries to Greek War Relief efforts. The card below, signed by Jane Withers, one of the biggest child stars of the 1930s and 40s, shows her pledge of $150 to be deducted in $15 installments.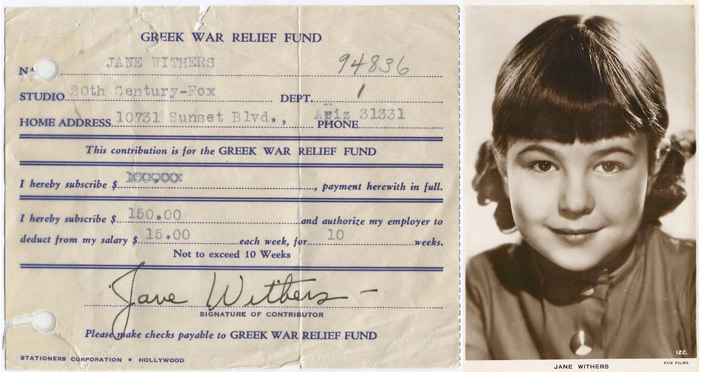 ---
Is The Pappas Post worth $5 a month for all of the content you read? On any given month, we publish dozens of articles that educate, inform, entertain, inspire and enrich thousands who read The Pappas Post. I'm asking those who frequent the site to chip in and help keep the quality of our content high — and free. Click here and start your monthly or annual support today. If you choose to pay (a) $5/month or more or (b) $50/year or more then you will be able to browse our site completely ad-free!

Click here if you would like to subscribe to The Pappas Post Weekly News Update