When Greeks refused the Italian ultimatum of surrender on October 28, 1940, their nation stood virtually alone in the world against the unstoppable Axis forces that had cast a dark shadow on all of Europe. 
The Nazi Germans and their Italian allies had defeated and brought 15 countries to their knees— including one of the greatest militaries at the time, France. 
Greece— ill-prepared and under-equipped— was the first nation to defeat the Axis in WWII and gave much of the world hope.
"The Amazing Greeks," proclaimed a New York Times editorial as Greek forces pushed back Italian invaders in December of 1940.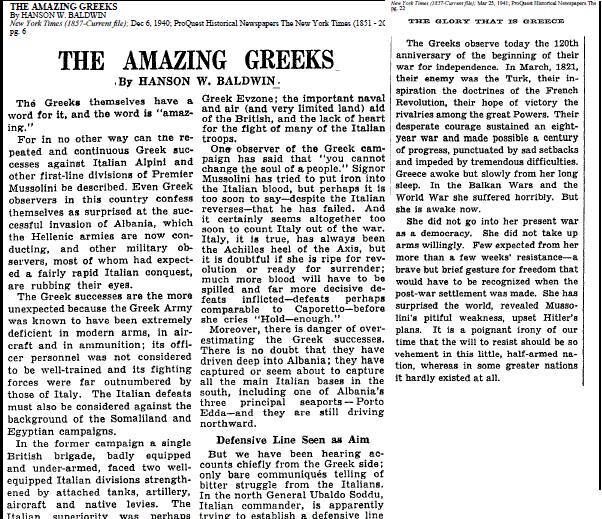 Greece's victory over Mussolini wasn't only about emotions and hope, but strategy that would ultimately change the outcome of the entire war. 
Greece's victory over the Italians forced Hitler to invade Greece— something he never intended to do. 
It was supposed to be a "stroll across Greece," according to a German newspaper at the time. But the Germans found a resistance never before experienced anywhere in Europe during their invasion and attempted occupation.
Hitler famously cabled his general in Crete in May 1941, more than a month after setting foot in Greece— "France fell in eight days. Why is Crete still free?"
Greece's resistance delayed the German invasion of Russia, which was supposed to happen in the spring— by two to three months.
The rest, as they say, is history, as German troops were trounced in the Russian winter, unprepared for the weather conditions after delaying their invasion to divert attention and resources to Greece.
** Featured image at the top of this article belongs to the personal collection of Gregory Pappas, currently on long-term loan to the Greek America Foundation.
---
Is The Pappas Post worth $5 a month for all of the content you read? On any given month, we publish dozens of articles that educate, inform, entertain, inspire and enrich thousands who read The Pappas Post. I'm asking those who frequent the site to chip in and help keep the quality of our content high — and free. Click here and start your monthly or annual support today. If you choose to pay (a) $5/month or more or (b) $50/year or more then you will be able to browse our site completely ad-free!

Click here if you would like to subscribe to The Pappas Post Weekly News Update