"AS COMPELLING AS SOMETHING BY EUGENE O'NEILL, BUT WITH MORE LAMB." – Jay Stone
Two years ago, Greeks audiences in Canada filled cinemas to see FORTUNATE SON, Montreal filmmaker Tony Asimakopoulos' critically-acclaimed, bittersweet documentary about his relationship with this Greek immigrant parents.
After a successful festival run (which included IDFA, the Thessaloniki Documentary festival, and the LA Greek Film Festival), Asimakopoulos's raw, deeply touching portrait of his family played to sold-out cinemas in Montreal and Toronto, but was never picked up for American release.
After two years of receiving numerous requests for a DVD, Asimakopoulos and his producer/distributors EyeSteelFilm (producers of the doc phenom LAST TRAIN HOME) have released a feature-packed DVD — essential viewing for Greeks of the North American diaspora. Get the DVD by clicking this link.
"There are almost no films out there about Greek diaspora families. And definitely not North American ones. The hordes of Greek folks who came to see my film, the last time they went to see a film in a cinema was Big Fat Greek Wedding," said Asimakopoulos upon the release of his film on DVD.
[youtube id="rARRKqa5AGk" width="600″ height="350″]
Fortunate Son deals with sensitive and private family issues, which are normally hidden and wrapped in shame: drug addiction, depression, and recovery from both. Asimakopoulos started the film in order to encourage other families to speak their truth, share their secret torments and get help.
His parents – both in their late 70s when the film began – set the bar very high for emotional disclosure: "They didn't want to do it at first, but over time, I realized they both had a lot they wanted to get off their chests… and I gave them the chance to do that. I know they both benefited, and it brought us all closer."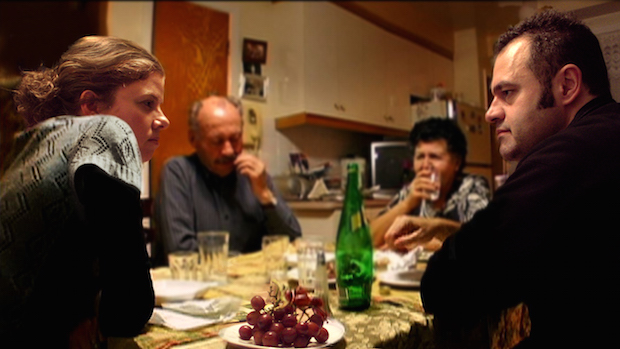 These days, Asimakopoulos has started another long-term doc project, about "Park Ex", Montreal's storied, turbulent immigrant neighborhood, and home to it's fast-disappearing Greek Town.
The story is less personal in some ways, but it's thematically linked to his previous work: it's a portrait of a marginalized neighborhood, a transit point that is maligned even by people who made their fortunes there before moving to the suburbs, and suffers from civic neglect and racism.
But, "it's like a village where people are real neighbors… maybe it's a holdover from the sense of shared struggle between immigrant cultures… but right there, in the middle of a city which is very divided on many levels, is this place which holds more ethnicities and more religions than any other place in the the world, and there is peace and tolerance. And your neighbors knock on your door to warn you that your car will be ticketed if you don;t move it."
The doc – tentatively entitled A WALK IN PARK EX – first gathered support on Indiegogo earlier this year, where Asimakopoulos raised 22,000 to begin the project. He hopes it will be completed for Easter 2016. "The film will begin and end at Easter… because Easter is about loss, renewal, and new beginnings, like every immigrant story.'