Sarakiniko beach on the Greek island of Milos is quickly becoming one of the least-kept secrets in the Aegean, largely due to its picturesque moonscape surface made of wind-shaped volcanic stone.
In the past year alone, the Instagram-friendly beach provided a backdrop for campaigns by Dior and Louis Vutton while Milos was ranked the world's number one island by Travel + Leisure Magazine.
In summer 2020, digital content creator Tony Kariotis visited Sarakiniko to capture the beach in its purest form. The same rocks which would normally be crowded with sun tanners, cliff-divers and social media influencers were instead barren of tourists.
Those rocks and the crystal blue waters around them became the subjects of Kariotis' latest non-narration film "NakedSarakiniko," shot in 4K.
"Shooting this film has to be one of the most unique experiences I've ever been a part of," Kariotis tells The Pappas Post. "We had a world-famous beach resembling the moon all to ourselves to film and enjoy."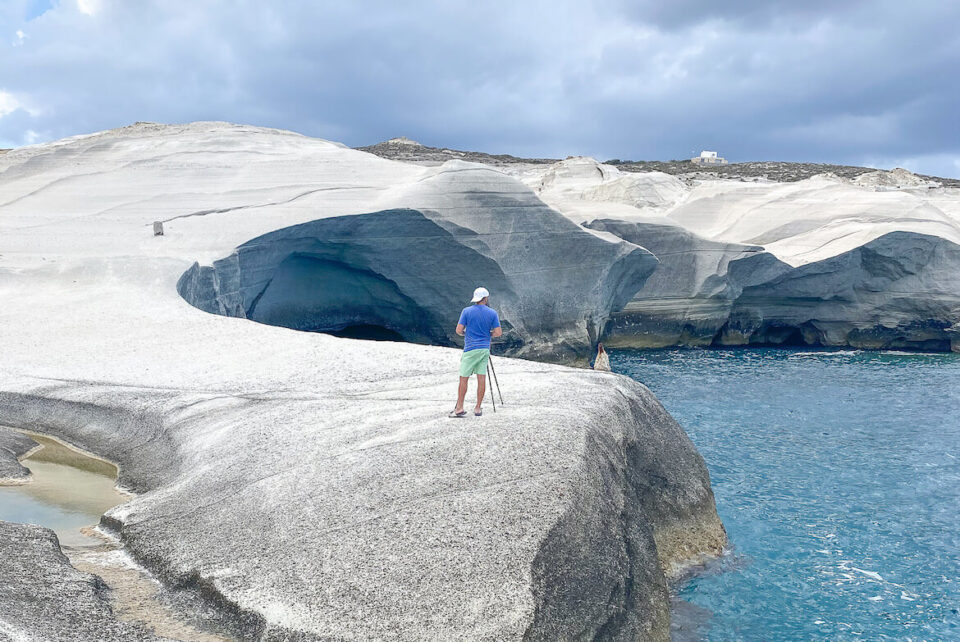 Ironically, the videographer says, his favorite part of the experience was left out of the film for lighting reasons.
"An experience that's not in the film is spending the entire evening here one of the days to see the stars," Kariotis says. "There isn't a street light or anything for miles and it gets pitch black, but it's completely worth it."
Kariotis, whose Instagram accounts @greece, @iamgreece and @hooplagreeks have reached more than 186,000 combined followers, has primarily built his social media audience through sharing curated images, videos and other content from his island-hopping adventures and other Greece travels.
The Boston native has released three previous films from his Greek island travels including "NakedNaousa," "NakedSantorini" and "NakedMykonos."
Kariotis recommends watching his latest 4K film on a TV or larger screen for optimal viewing.
---
Is The Pappas Post worth $5 a month for all of the content you read? On any given month, we publish dozens of articles that educate, inform, entertain, inspire and enrich thousands who read The Pappas Post. I'm asking those who frequent the site to chip in and help keep the quality of our content high — and free. Click here and start your monthly or annual support today. If you choose to pay (a) $5/month or more or (b) $50/year or more then you will be able to browse our site completely ad-free!

Click here if you would like to subscribe to The Pappas Post Weekly News Update