Easy to make ahead and/or in stages, spanakopita is probably one of the best-known of all traditional Greek dishes and hands down one of the most delicious.
A handful of simple ingredients — fresh dill, mint, peppery chopped scallions, gorgeous green leafy spinach — all wrapped up in flaky fillo dough and you've got one of the easiest and most delightful pita in all of Greek cooking.
And although you may expect your traditional spanakopita to have cheese in it, think again! You're probably thinking of Spanakotiropita. Traditional spanakopita is actually cheese-free.
This recipe will have spanakopita on your table in under an hour. Give it a try — you'll love it, I promise!
---
Ingredients
3 lbs fresh spinach or 3 cups thawed frozen spinach
1 1/2 cups chopped scallions (approx 12 whole)
1/4 cup olive oil + 3 tbsp (Buy your Greek extra virgin olive oil here)
1 cup fresh dill chopped fine
1/2 cup fresh mint chopped fine
1/3 cup garlic chopped fine
1 1/2 tsp salt 1 tsp fresh ground black pepper
Instructions
In large pan, wilt spinach (preferably fresh) in 3 separate -1 lb batches in 1 tbsp of oil per batch. Important: transfer wilted spinach batches into strainer immediately to allow liquid to strain off. Wilting should take not more than a few minutes per batch in med hot pan
Thaw frozen spinach (will do in a pinch) completely before using and drain off excess liquid in strainer.

Chop both fresh and frozen spinach well and set aside.
In 1/4 cup olive oil, sauté chopped scallions and garlic on low heat until soft, careful not to burn.
Add herbs and spices, stir to combine well and cook on very low heat for less 5 minutes just to combine flavors.
Add chopped spinach to pan and mix well to combine completely. Take your time with this step to make sure ingredients are evenly distributed throughout the spinach mixture.
Cook on medium low for about 10 minutes, making sure to stir often. Remove from heat and set aside.

At this stage, you can cover and refrigerate your spinach filling for up to 3 days before using.
When ready to bake, carefully separate and layer fillo sheets in baking pan and brush each sheet lightly with olive oil. An average of 6-8 sheets both under and on top of spinach filling is a good guide.

Add the spinach filling and distribute evenly over the entire pan. Add top layers of fillo as above.
Brush top of pie liberally with olive oil and score fillo sheets carefully cutting through all of the top layers of fillo. I use a box cutter and it works very well.
Bake at 350 degrees for 45 minutes until a beautiful golden brown. Allow pie to rest for about 15 minutes before serving. To reheat, wrap in aluminum foil in 350 degree oven for about 15 minutes. Do not microwave or you'll get soggy spinach pie!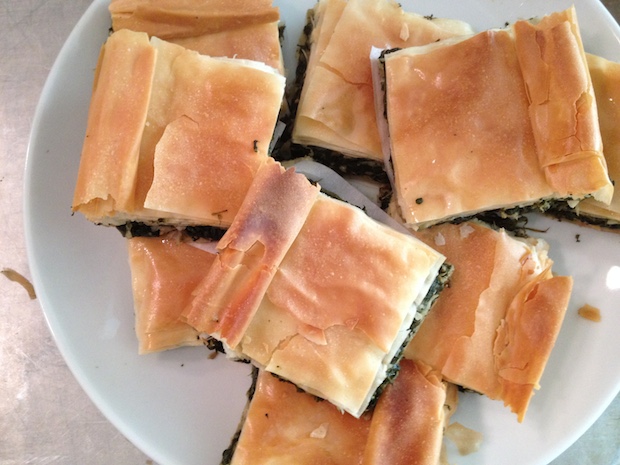 Kiki Vagianos is The Greek Vegan! Kiki lives and cooks in Boston. She spends her free time collecting, testing and posting favorite traditional Greek lenten recipes at The Greek Vegan. She loves sharing these simple and delicious authentic dishes and helping to bring them back into kitchens throughout the Greek diaspora. Kali Orexi!
---
Is The Pappas Post worth $5 a month for all of the content you read? On any given month, we publish dozens of articles that educate, inform, entertain, inspire and enrich thousands who read The Pappas Post. I'm asking those who frequent the site to chip in and help keep the quality of our content high — and free. Click here and start your monthly or annual support today. If you choose to pay (a) $5/month or more or (b) $50/year or more then you will be able to browse our site completely ad-free!

Click here if you would like to subscribe to The Pappas Post Weekly News Update